Britain's recovery from recession will be slow and painful, with growth unlikely to hit one percent in 2010, a report out Monday warned.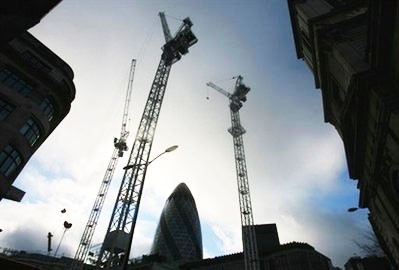 Construction cranes in central London, January 2009. (AFP Photo)
The recovery will be a drawn out, bumpy ride, according the influential Independent Treasury Economic Model (ITEM) Club economic forecasting group of auditors Ernst and Young.
The club said the emergence from recession would be hampered by world economic uncertainties, government tax increases and lending restrictions.
"The outlook for the next 12 months is certainly looking more positive than the last year," said Professor Peter Spencer, chief economist to the ITEM Club.
"But it is going to be a bumpy ride, particularly once the government starts to cut back.
"Policy will begin to tighten in early-2010 with the restoration of valued added tax to 17.5 percent; an end to the stamp duty holiday on housing; an increase in national insurance contributions; the introduction of the new 50 pence tax (50 percent upper tax rate) and a programme of spending restraint.
"But these measures only provide a fraction of the extra income needed to close the government deficit."
The forecast sees an "anaemic" gross domestic product (GDP) performance next year following an uncertain recovery in the second half of this year.
"GDP growth struggles to reach one percent in 2010," the report said.
"The weakness of domestic demand puts downward pressure on the Consumer Price Index, but this is offset by downward pressure on the exchange rate, helping to rebalance the economy in subsequent years."
The ITEM Club forecast comes ahead of Friday's official figures for July to September, which are expected to show that Britain's worst recession in decades has finally ended, with a quarter of positive GDP.
Britain's recession began in the second quarter of 2008.
"We have come a long way since this time last year," Spencer said.
"But with consumers repaying debt and fiscal policy inevitably tightening in the UK... it is difficult to see any serious potential for a sustained recovery in domestic demand.
"There could still be substantial pain to come for corporates and consumers. For a sustainable recovery the UK economy needs world trade to pick up and there is still not much sign of that happening."