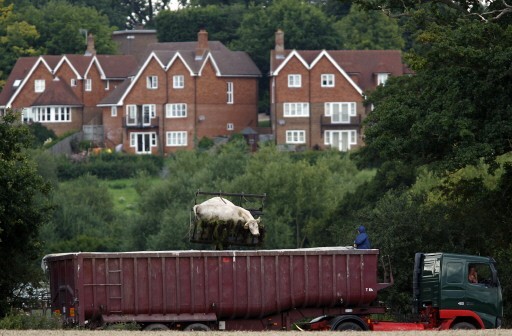 Dead cattle are carried by a loader onto a lorry on a farm near Normandy, in Surrey, in south-east England, August 7, 2007,
A probe into Britain's new foot and mouth disease outbreak focused Wednesday on whether staff at an animal vaccine firm may have spread the virus.
Amid threats of legal action from angry farmers, health inspectors said there was a "strong probability" the leaked strain came from the Pirbright research site southwest of London, which houses the government's Institute for Animal Health and Merial Animal Health Limited.
A preliminary report into the outbreak said Tuesday it was a "real possibility" that human movement spread the disease to two nearby farms, with Merial coming increasingly under suspicion. Inspectors said sabotage could not be ruled out.
Foot and mouth disease was first confirmed last Friday. Exclusion zones have been set up around the two farms found to have the disease and the laboratory site while British livestock and meat exports have also been halted.
Amid media reports that other farms are under observation, farmers fear a repeat of the costly 2001 foot and mouth outbreak, although the EU Commission was meeting later Wednesday to discuss whether to ease restrictions.
The Sun and the Daily Mail newspapers claimed a lab worker at Merial could have spread the disease through his vegetable garden near the affected farm, without citing sources.
The preliminary Health and Safety Executive report does not rule out sabotage, saying there were various potential routes for "accidental or deliberate transfer of material" from the site.
The Daily Telegraph newspaper said officials were investigating a further 20 possible cases of foot and mouth thought to be close to the centre of the outbreak.
A three-kilometre (1.8 mile) protection zone and 10-kilometre (six mile) surveillance zone rings Pirbright and the affected farms.
The 2001 foot and mouth crisis cost the British economy about eight billion pounds (16.3 billion dollars/11.9 billion euros), devastating the agriculture sector and hitting tourism.