LONDON (AFP) – Britain's Labour party holds crunch talks with the Liberal Democrats Tuesday, a day after Prime Minister Gordon Brown said he would quit in a bid to keep his party in power following a poll defeat.
Negotiators from Labour meet for formal power-sharing talks with the Lib Dems, who have only officially been talking to the main opposition Conservatives since last week's election.
Talks began between Brown's party and the third party, the Lib Dems -- who have taken on the role of kingmakers after neither of their larger rivals won a clear majority in the general election -- began late Monday.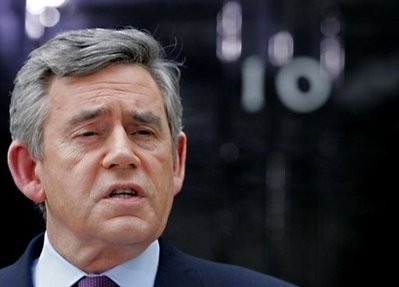 British Prime Minister Gordon Brown addresses the media outside of 10 Downing Street in central London. AFP photo
There were hopes a deal could be struck on Tuesday, party sources said, as Britain entered its fifth day of political stalemate.
Brown made his bombshell announcement Monday that he would quit, and at the same time said talks on power-sharing would begin with the Lib Dems.
In an immediate counter-bid from the Conservatives, chief negotiator William Hague offered a key concession to the Lib Dems in return for their support in a coalition.
Lib Dem leader Nick Clegg welcomed Monday Brown's statement that he will quit by September as "important" in a possible power-sharing deal between the two parties.
"I think his announcement could be an important element in the smooth transition towards a stable government," said Clegg, who indicated before the election he would not share power with Labour if Brown remained its leader.
"It must have been a very difficult thing for him to say personally," added Clegg, whose centrist party is seen as politically closer to centre-left Labour than the centre-right Conservatives.
Brown's statement marks the beginning of the end of his premiership and an act of political self-sacrifice, increasing the previously distant chance that Labour could extend its 13 years in office through a deal with the Lib Dems.
If that happened, he could still stay on as prime minister for several months even though he led his party to second place behind David Cameron's Conservatives in the poll.
"The reason that we have a hung parliament is that no single party and no single leader was able to win the full support of the country," Brown said in a statement delivered in Downing Street.
"As leader of my party, I must accept that that is a judgement on me. I therefore intend to ask the Labour party to set in train the processes needed for its own leadership election."
Brown added that it "could be in the interests of the whole country to form a progressive coalition government" involving Labour and the Lib Dems.
In Thursday's poll, the Conservatives won 306 seats in the 650-member House of Commons -- 20 short of an absolute majority of 326 -- followed by Labour on 258 and the Lib Dems on 57.
Labour and the Lib Dems together would still not have enough seats for a clear majority, and would require help from smaller parties like Scottish and Welsh nationalists.
Hopes had been rising that Clegg's party could be about to announce a deal with the Conservatives, despite their radically different positions on issues like Europe, defence and reforming Britain's voting system.
But Lib Dem negotiator David Laws said after a meeting with lawmakers that further "clarification" was still needed, the first indication of possible problems.
Foreign Secretary David Miliband is the odds-on favourite to replace Brown as Labour Party leader, according to odds from bookmakers updated minutes after the prime minister's statement.
The key potential stumbling block to a deal between the Lib Dems and Conservatives is seen as electoral reform.
The Lib Dems want to scrap the first-past-the-post system, which favours two-party politics and means smaller parties like theirs get fewer seats in the House of Commons. But most Conservatives strongly oppose such changes.
In a clear Conservative counter-offer to the Lib Dems after Brown's bombshell statement, Hague said the Tories would promise a referendum on electoral reform, a key Lib Dem demand, if they entered a coalition.
"In the interests of trying to create a stable, secure government, we will go the extra mile and we will offer to the Lib Dems in a coalition government the holding of a referendum on the Alternative Voting system," Hague said.
"That's the choice that they will now have to make."