Britain's Conservatives and Liberal Democrats were set for further talks Saturday to thrash out a power-sharing deal after a cliffhanger election left the kingdom in political limbo.
Negotiations were to continue into the weekend after Thursday's general election put the Conservatives in the driving seat but without an overall majority in parliament.
All eyes were on Liberal Democrat leader Nick Clegg, who faces steering his third-placed party into alliance with the Conservatives or keeping Prime Minister Gordon Brown's Labour Party in office in the first hung parliament since 1974.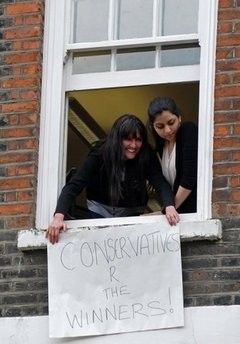 Two women hang a banner out of a window as they wait to catch a glimpse of British Conservative Party leader David Cameron.
Mindful of the economic turbulence in Europe, Britain's newspapers urged a swift deal to get a new government in office by Monday.
The Conservatives have 306 lawmakers, compared to 258 for Labour and 57 for the Liberal Democrats, leaving the Tories short of the 326 seats statistically needed to govern unaided in parliament's 650-seat lower House of Commons.
Conservative leader David Cameron invited the Liberals to strike a pact and talks between their negotiators began late Friday, though all sides were keeping tight-lipped about progress.
"I want to make a big, open and comprehensive offer to the Liberal Democrats. I want us to work together in tackling our country's big and urgent problems," Cameron told a press conference earlier.
"I hope we can reach agreement quickly," he added, while leaving open the possibility of a minority Conservative government, relying on support from smaller parties to pass legislation on an ad hoc basis.
In a hung parliament here, the incumbent prime minister has the right to stay on in office, possibly seeking coalition partners.
Brown accepted Clegg's decision to look to the Conservatives to make the first move, saying Cameron and Clegg would be "entitled to take as much time as they feel necessary".
But Brown said he too was open to negotiation with the Lib Dems and dangled the prospect of immediate legislation on their key demand of electoral reform.
"Should the discussions between Mr. Cameron and Mr. Clegg come to nothing then I would of course be prepared to discuss with Mr. Clegg the areas where there may be some measure of agreement between our two parties," he said.
Cameron and Clegg held telephone talks for 10 minutes, a Lib Dem spokesman said, adding: "They agreed that they should explore further proposals for a programme of economic and political reform."
Then late Friday, four Conservative negotiators, including Cameron's de facto deputy William Hague, met in civil service offices with four senior Lib Dems, but both parties gave little away on how the talks had gone.
"We've had an intitial meeting, that's all there is to say," Hague told reporters.
A Liberal Democrat spokesman confirmed that the negotiating teams met for just over an hour.
"They had a discussion and they agreed that future meetings will take place," he said.
After later internal talks at their party headquarters, Lib Dem grandee Simon Hughes said: "Things are going properly. Things are going carefully.
"There's been talks and there will be more... the process has to take its time."
The negotiations could be tough: Clegg and Cameron are much further apart in terms of policy than the Lib Dems and Labour: Clegg is a europhile, wants to scrap the Trident nuclear deterrent and backs an illegal immigrant amnesty.
Some commentators said a fresh election might be the only route to a solid government.
The pound slumped to a 13-month low against the dollar and London stocks sank on fears the deadlock would hamper the nation's ability to slash the giant public debt, analysts said.
The Financial Times newspaper said a Tory-Lib Dem pact offered the best hope of stability, because it was the only plausible combination.
The Daily Telegraph said Britain needed a new government in place before Monday to prevent turbulence in the financial markets.
The Electoral Commission watchdog has launched an investigation into scenes in London, Manchester, Leeds, Sheffield and other cities where voters were still queuing as polling stations closed.