LONDON, July 8, 2011 (AFP) - British Prime Minister David Cameron called a news conference Friday amid reports his former media chief will be arrested over the phone hacking scandal which brought down the News of the World tabloid.
Cameron's Downing Street office did not give further details about the conference, which comes a day after media Rupert Murdoch stunningly axed Britain's top selling Sunday newspaper.
Media reports said Andy Coulson, who was editor of the paper when some of the hacking occurred and who served as Cameron's communications chief from 2007 until he quit earlier this year, would be arrested Friday over the hacking scandal.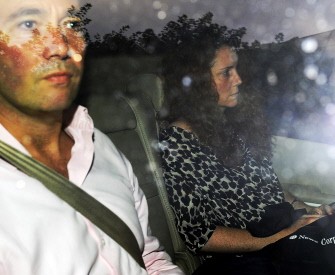 AFP - This picture taken through a car window shows Rebekah Brooks, chief executive of News International, leaving her office in London on July 7, 2011, after Rupert Murdoch's decision to close the 168-year-old tabloid after it was engulfed in a phone hacking scandal.
Coulson was told by police that he was to be detained and that he was expected to be released on bail, said the Guardian newspaper, which led much of the investigation into the hacking scandal.
The News of the World will print its last edition after 168 years of existence on Sunday after claims that it hacked the phones of a murdered girl and the families of dead soldiers, and that it paid police for stories.
Opposition leader Ed Miliband said in a speech on Friday that Cameron had to "come clean" about conversations he had with Coulson about the phone-hacking scandal.