After four and a half inconclusive years of fighting, British forces during the night slipped out of their last base in the Iraqi oil port of Basra, handing control on Monday to their Iraqi comrades.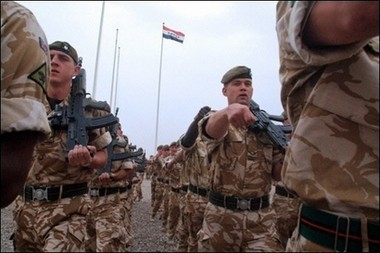 British soldiers parade during a handover ceremony Al-Shuaiba logistics base in Basra, April 2007
The move comes amid heightened tensions between Washington and London, its closest ally in Iraq, over policy in the war-torn nation, with the British troops leaving behind a city in the grip of a brutal militia turf war.
"The Iraqi army has now taken over responsibility and the area is off-limits. No one can approach except those who are authorised," General Mohan Fahad, commander of Basra military operations told AFP.
Farhad said the Iraqi military will control the presidential palace compound until Prime Minister Nuri al-Maliki decides its fate.
A defence ministry spokesman in London told AFP, however, that some British soldiers remain at the palace, refusing for security reasons to give details of how many and when they will be transferred.
"UK forces will now operate from their base at Basra Air Station, and will retain security responsibility for Basra until we hand over to provincial Iraqi control, which we anticipate in the autumn," the statement said.
General Jack Keane, a former vice-chief of staff of the US Army, had said last month there was "frustration" in Washington at the deteriorating security situation in the British-run area -- triggering an angry reaction from some quarters in the British military.
On Saturday, the head of the British army during the 2003 invasion had launched a fierce attack on the US over its handling of troubled Iraq since.
The British troops leave behind a city in the grip of a brutal turf war between rival militia and many policy experts now speak candidly of a British defeat in southern Iraq, and warn of more chaos ahead.
And the Pentagon announced this week it was ready to intervene in southern Iraq to quell any unrest in Basra.
Since the March 2003 invasion, almost 160 British soldiers have been killed in Iraq.