LONDON, March 24, 2010 (AFP) - Britain has kicked out an Israeli diplomat over the "intolerable" use of fake British passports in the killing of a Hamas chief, in a sharp escalation of tension over the murder.
Israel's Foreign Minister Avigdor Lieberman said he was "very disappointed" by the expulsion on Tuesday, but a senior official said the Jewish state would not retaliate.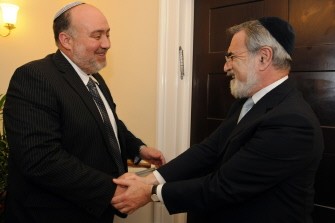 A handout picture obtained on March 23, 2010 from the Embassy of Israel in London shows Israel's ambassador to London, Ron Prossor (L) shaking hands with Chief Rabbi Jonathan Sacks during a housewarming reception at the Israeli Embassy's newly refurbished premises in London. AFP photo
British Foreign Secretary David Miliband said there were "compelling reasons" to suggest that Israel was behind the forgeries used by the team which killed Mahmud al-Mabhuh in Dubai in January.
"I've asked that a member of the embassy of Israel be withdrawn from the UK as a result of this affair and this is taking place," he told lawmakers.
"There are compelling reasons to believe that Israel was responsible for the misuse of the British passports... The government takes this matter extremely seriously. Such misuse of British passports is intolerable."
The foreign minister declined to specify the position of the expelled diplomat, but reports in the Times and Telegraph newspapers said the individual was a senior Mossad agent, without citing sources.
The person was believed to be the Israeli spy agency's station chief in London, said the papers.
A spokeswoman for the British Foreign Office declined to comment on the reports.
Mossad has been widely blamed for the assassination of the Hamas chief but Israel maintains there is no proof for this claim.
Hamas hailed the expulsion and said it hoped Israeli leaders would eventually be brought to trial over the case.
Dubai police in February released photographs and names of European passport holders alleged to have been members of the hit squad.
The suspects used the identities of 12 people from Britain, as well as people from Australia, France, Germany and Ireland. Interpol has issued arrest notices for 27 suspects wanted by Dubai in connection with the killing.
Also Tuesday, a French prosecutor announced an investigation into the use of four fake French passports in the Hamas hit.
And in Berlin, a spokesman from the federal prosecutor's office said a probe had been launched more than a month ago into a fake German passport used in the murder.
British Prime Minister Gordon Brown's spokesman said the Israeli diplomat had technically been "asked to withdraw" from Britain, adding that he had been given two weeks to leave.
The announcement came after Israeli ambassador Ron Prosor was called in again to the Foreign Office on Monday, and briefed on the results of an investigation by Britain's Serious Organised Crime Agency (SOCA).
Miliband said SOCA had established that 12 British passport holders identified by Dubai police were "wholly innocent victims of identity theft".
The passports were copied "when handed over for inspection to individuals linked to Israel, either in Israel or in other countries", he said.
"Given that this was a very sophisticated operation in which high-quality forgeries were made, the government judges it is highly likely that the forgeries were made by a state intelligence service," he said.
Miliband met Lieberman in Brussels on Monday and asked for a formal pledge that in future "the state of Israel would never be party to the misuse of British passports in such a way", he said.
Lieberman said in a statement that while he wanted to maintain cordial relations with London, "no proof of Israeli involvement in this affair has been provided to us."
Meanwhile a senior Israeli official told AFP that the priority was to "calm things down".
"We have no intention of expelling a British diplomat in response to London's decision," the official said, asking not to be identified.
The Foreign Office has amended its official travel advice for Israel, warning British visitors about the risk to their passports and identities.
Relations between Britain and Israel were strained even before the passport row, notably after a London court issued an arrest warrant for former Israeli foreign minister Tzipi Livni.
Livni reportedly cancelled a trip to Britain in December for fear of being arrested under the warrant, issued over her role in Israel's 22-day war against the Hamas-rule Gaza Strip launched at the end of 2008.
Israel is also embroiled in a separate row with another ally, the US, after the Jewish state announced plans for the construction of settler homes in east Jerusalem while American Vice President Joe Biden was visiting the country.