LONDON, May 27, 2009 (AFP) - Britain has "not ruled out" financial help to save factories run by carmaker Vauxhall, which alongside Opel is part of General Motors' European operation, a minister reportedly said Wednesday.
Business Secretary Peter Mandelson had telephone conversations with senior GM executives Tuesday and made clear "the UK's commitment to all of Vauxhall's plants," the Times newspaper reported.
Quoting Mandelson, it also said Britain had "not ruled out making a financial contribution" to help save Vauxhall, which employs 5,000 people at two main plants in Britain.
Germany is holding a crunch meeting Wednesay to select its preferred bidder for General Motors subsidiary Opel, which employs 25,000 people in Germany.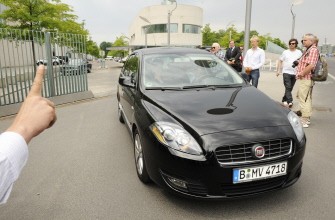 Fiat chief Sergio Marchionne leaves the chancellory in Berlin on board a Fiat car on May 26, 2009 after meeting with German Chancellor Angela Merkel and German Economy minister Karl-Theodor zu Guttenberg for an eleventh-hour attempt to win over a sceptical Angela Merkel to his bid for General Motors's Opel unit (AFP photo)
The Financial Times reported that Britain was lobbying hard to prevent the German government, which faces federal elections this year, yielding to domestic pressure to protect jobs there at the expense of employees in Britain.
"We're pedalling hard to get a commercial solution and not an overtly political one," the FT quoted an unnamed senior government insider as saying.
Mandelson has also met representatives from Italy's Fiat and Canada's Magna, which are competing for a stake in GM Europe, both papers reported.