NEW ORLEANS, Louisiana (AFP) – Engineers on Monday mulled options to seal an oil gush in the Gulf of Mexico after BP succeeded in capturing "some" oil and gas by inserting a mile-long tube into the main leak.
The tube insertion was the first tangible sign of success in more than three weeks of efforts to prevent at least 210,000 gallons of oil from spewing unabated into the sea each day and feeding a massive slick off the coast of Louisiana.
A relief well that would divert the flow and allow the well to be permanently sealed was one of the additional options under consideration, but it was not expected to be ready until August.
BP senior executive vice president Kent Wells confirmed that after a temporary hitch in which the tube became dislodged overnight, siphoning operations were up and running once again.
"We will look to... capture as much of the oil as we can," he told reporters in Houston, Texas. "At this point, we don't know what percentage we will capture" by the process, in which the oil was sucked up as if through a straw to the giant ship.
A BP statement said simply that the four-inch (10-centimeter) diameter tube inserted into the 21-inch leaking pipe using undersea robots had captured "some amounts of oil and gas."
Wells added that the BP crews "don't have any idea at this point" how much crude is being collected and would only have a better estimate in coming days.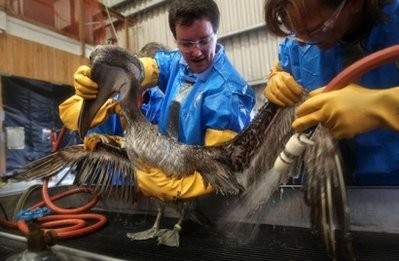 Veterinarians clean an oil-covered brown pelican at the Fort Jackson Wildlife Rehabilitation Center on May 15, 2010 in Buras, Louisiana. AFP photo
If all goes as planned, a flow of nitrogen in the tube will lift the oil to the ship, experts said. Methanol will be added to help prevent the formation of hydrates, and heated sea water will promote the flow of oil.
The Barack Obama administration seemed unimpressed however, saying BP's latest efforts, even if they manage to slow the leak, would not permanently stop the underwater geyser.
"This technique is not a solution to the problem, and it is not yet clear how successful it may be," said Homeland Security Secretary Janet Napolitano and Interior Secretary Ken Salazar.
The Deepwater Horizon rig, leased by BP from Transocean, has been gushing oil since an explosion on April 20 ripped through the drilling platform and caused it to sink two days later. Eleven workers were killed.
Fresh analysis of enormous plumes of oil under the surface suggest the spill may be far worse than previously estimated.
One was reported to be 10 miles (16 kilometers) long, three miles wide and 300 feet thick.
Researchers from the National Institute for Undersea Science and Technology said the plumes were "perhaps due to the deep injection of dispersants which BP has stated that they are conducting."
Response crews have so far used some 560,000 gallons of the controversial chemical dispersants, spraying them onto surface oil and also directly into the leak in a bid to break up the oil.
"The oil still exists, it's just spread in smaller pieces," Aaron Viles, campaign director for the Gulf Restoration Network, a coalition of environmental groups, told AFP. "It could have a significant impact on the marine life of the Gulf of Mexico."
University of Georgia researcher Samantha Joye, who is on a scientific mission to gather details about the looming environmental disaster, told The New York Times that oxygen levels have dropped 30 percent near the plumes, in an "alarming" trend that is endangering marine life.
But Andrew Gowers, head of group media for BP, dismissed reports that "speculate" on the giant plumes. He said officials "had no confirmation" of oil clumping together in mid-ocean areas.
On Sunday a large concert in New Orleans was drawing crowds to support Gulf fishermen, whose livelihoods are threatened by the oil spill, with rocker Lenny Kravitz heading the line-up.
"This is a catastrophe," Kravitz told CNN television. "I love this place. And this place has been through so much in the last several years," he said referring to the devastation of Hurricane Katrina.
Officials said some 19,000 personnel and more than 650 vessels had been deployed to try to mitigate the negative effects of the spill on the Gulf shoreline and wildlife.
Meanwhile, the US Coast Guard told AFP that oil was washing ashore in at least two new locations -- Whiskey Island, Louisiana and Long Beach, Mississippi.
The main leak has spewed out an estimated five million gallons so far, according to the most conservative estimates.
A relief well that would divert the flow and allow the well to be permanently sealed may not be ready until August.