NEW ORLEANS, Louisiana (AFP) – Days after failing to contain the Gulf of Mexico oil spill with a giant dome, BP said it will make a second attempt this week using a smaller version dubbed the "top hat."
A four-story, 100-ton box was lowered Friday to the seabed to try to capture most of the oil and allow it to be funneled up to a ship on the surface, but it was rendered useless on Sunday when ice crystals formed in its domed roof.
BP experts believe the smaller "top hat" containment box would not suffer the same problem as it would not hold so much freezing cold seawater.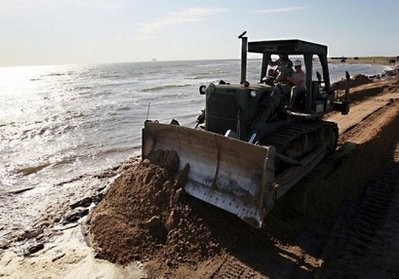 Louisiana National Guard use a bulldozer to create a earthen barrier as they try to protect an estuary from the massive oil spill in Lafourche Parish, Louisiana. AFP photo
They are preparing to drop it into the inky depths to carry out a similar fix to what is unfolding as one the worst oil spills in US history.
The company's chief executive Tony Hayward told reporters he hoped the smaller container would be in place "within 72 hours" and officials said it should be up and running this week.
Hayward admitted the smaller size meant it "will be less efficient at capturing" the leaking oil than the larger dome, which had been expected to swallow up to 85 percent of the crude.
With BP coming under intense pressure, including from the White House, to plug the leak from a fractured pipe on the seabed, Hayward urged people to consider that "this is the first time that we have had a major accident" in the past 20 years.
"We are taking this incredibly seriously" and responding in a "very, very aggressive way," he told National Public Radio. "We need to learn the lessons. They will shape the industry as we go forward."
BP said its disaster-related costs have reached 350 million dollars since the Deepwater Horizon rig sank 50 miles (80 kilometers) off the Louisiana coast on April 22 following an explosion that killed 11 workers.
An estimated 210,000 gallons of crude is spewing into the sea each day, feeding fears of an environmental catastrophe.
With some 3.8 million gallons already in the sea causing untold damage to the ecologically fragile Gulf coast, engineers are searching furiously for a quicker solution than a relief well that may not be ready until August.
President Barack Obama demanded BP "aggressively" pursue a solution to the spill as he sought advice from independent experts, the White House said.
Obama huddled with cabinet members in the White House Situation Room on Monday "to decide on next steps" in efforts to contain a steadily expanding disaster, and to keep the pressure squarely on responsible party British Petroleum as it struggles to stem the massive leak.
Obama was dispatching a fresh delegation of officials to the Gulf Coast this week, led by Energy Secretary Steven Chu, "for an extensive dialogue with BP officials to continue to aggressively pursue potential solutions," the White House said in a statement.
The US Navy bolstered its role in skimming and salvage operations-including 16 Modular Skimming Systems deployed to Gulfport, Mississippi. A total of 1,400 military personnel have been deployed to support cleanup and mitigation, officials said.
In tandem with the "top hat," BP is also preparing for a bizarre operation to inject golf balls, tires and other "junk" into the main leak, 1,500 meters (5,000 feet) down on the seabed, and then jam it up.
"We actually pump that material in and plug up the blowout preventer and follow that with heavy fluids followed by cement," explained BP Chief Operating Officer Doug Suttles.
The "junk shot" could be risky as experts have warned that tinkering with the blowout preventer -- a huge 450-ton valve system that should have shut off the oil -- could see crude shoot out unchecked at 12 times the current rate.
BP also restarted Monday operations to stream dispersants directly into the main leak despite fears that the dispersants themselves could be harming aquatic life from the smallest microorganisms on up.
The US Congress kicks off a spate of hearings into the catastrophe on Tuesday, BP's top US executive Lamar McKay faces a certain grilling from members of the US Senate Energy and Natural Resources Committee looking into offshore drilling safety and who was responsible for the Gulf oil spill.
Some lawmakers, citing the possible impact of the disaster on local tourism and fishing industries, have called for lifting oil companies' liability for economic damages from a spill from 75 million to 10 billion dollars.
Sheen from the leading edge of the slick has surrounded island nature reserves off Louisiana's coast and tar balls have reached as far as the Alabama coast, threatening tourist beaches further east.
Sea life has been affected in a region that contains vital spawning grounds for fish, shrimp and crabs and is a major migratory stop for rare birds.