BP battled Wednesday to cap a huge oil leak, lowering a box dubbed "a top-hat" into the Gulf of Mexico amid mounting US anger over a spill flowing unchecked into the sea for three weeks.
Frustrated by the failure to staunch the leak, President Barack Obama dispatched a top team to BP's command center in Houston, Texas, to throw the administration's scientific expertise behind the British oil giant's efforts.
Energy Secretary Steven Chu told reporters the "intellectual horsepower of the country is engaged in solving this problem" to stop an estimated 210,000 gallons of oil spouting daily from a sunken rig.
After talks with BP, the Nobel prize-winning physicist appeared optimistic. "Things are looking up," Chu said. "Progress is being made."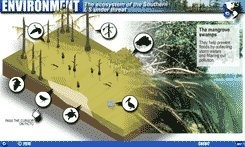 Interactive graphic on threat to wildlife from Louisiana oil spill…
Without going into detail, Chu cautioned the situation was still not under control, but said: "I'm feeling more comfortable than I was a week ago."
The latest attempt by engineers to plug the Deepwater Horizon rig, 80 kilometers (50 miles) off Louisiana, features a streamlined 1.6-tonne structure which is due to be lowered over the leak.
It is hoped this smaller version, equipped to allow warm water and methanol to circulate inside, will not develop the same icy crystals which scuppered an attempt to cap the spill at the weekend with a bigger dome.
Meanwhile, oil company executives were grilled for a second day by lawmakers trying to determine why the Deepwater Horizon exploded on April 20, killing 11 workers, and sank two days later.
US lawmakers said Wednesday that evidence showed a critical safety device had a leak before the disaster.
House Energy and Commerce Committee chairman Henry Waxman zeroed in on the rig's "blowout preventer," meant to stop sudden, dangerous rushes of volatile oil and gas.
"We have learned from Cameron, the manufacturer of the blowout preventer, that the device had a leak in a crucial hydraulic system and a defectively configured ram," designed to seal off an oil well's pipes, Waxman said.
With anger growing that oil is still spewing into the seas and reaching parts of the Gulf coast, the Obama administration moved to hike taxes slapped on oil companies to pay for eventual clean-up operations and damages.
It proposed to raise the per-barrel tax for a special liability fund from eight to nine cents, and to increase the fund's cap to 1.5 billion dollars.
BP began drilling a relief well on May 2 that could divert the flow until the well is permanently sealed, but this may not be ready until August.
Stricken communities along the southern Gulf coast have already seen livelihoods damaged by a ban on fishing, amid fears for the region's vital tourism industry and fragile ecosystem.
Officials in Louisiana on Wednesday reopened a small stretch of the state's fishing grounds that did not appear under immediate threat.
But clean-up teams later announced that oil had been found washing up on Whiskey Island, just 18 miles (25 kilometers) off the coast, after already hitting the protected Chandeleur Islands, lying east of New Orleans, last week.
Tar balls have also been found on Alabama beaches, while Florida Wednesday issued emergency orders in case its coastline is hit by the giant oil slick.
So far some 1.5 million feet of boom has been laid in the Gulf to try to contain the slick, amid forecasts that stronger winds could push the slick closer to the shore.
But AFP reporters spotted some of the boom washed up uselessly on shore.
The boom "seems mostly to put on a show," fishing boat captain Carey O'Neil told AFP.
"It only works in ideal conditions. Even if it's anchored right, which I don't see it being, it just needs a swell or a few waves and it gets pushed up or onto the shore. With some waves the oil gets pushed right over them."
Obama and his Democratic allies are also eyeing the political fallout of the disaster as the administration seeks to uphold pledges to the international community to rein in America's output of greenhouse gases.
US senators proposed expanding environmental protections for offshore drilling in a bid to win over support for a bill aimed at battling climate change.
Meanwhile, Florida Governor Charlie Crist said BP should pay 34 million dollars for an advertising campaign aimed at bringing back tourists who canceled trips after news of the spill.