China should end preferential policies for automotive companies in order to curb over-capacity in an industry where sales jumped 55 percent in August, a government official said.
Chen Bin, a top official at China's economic planning agency, said booming auto sales were leading to blind investment in the industry, which could result in annual production capacity of over 31 million units by 2015.
"Serious overproduction capacity will lead to negative market competitiveness a loss in enterprise efficiency, factory stoppages and other problems," Chen said at an automotive symposium on Saturday.
"Judging from our understanding of the situation as reported by local governments and related departments, production capacity will far outstrip market demand for the coming period (ending in 2015)," he said in a report on the website of the National Development Reform Commission.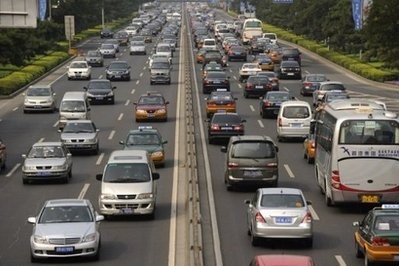 Cars are seen in heavy traffic on one of Beijing's major ring roads on September 2, 2010
Last year, China became the world's largest auto market when over 13.6 million vehicles were sold.
Sales have boomed this year, jumping 55.7 percent in August year-on-year, as the government rolled out a new subsidy scheme for energy-saving vehicles.
In order to curb overcapacity, local governments should stop pushing manufacturers to increase production and end preferential tax and land policies aimed at spurring production, Chen said.
He said the industry's penchant for using preferential energy-saving policies to ramp up production of traditional automotive products should also be curbed.
China announced a trial programme in June to subsidise environmentally-friendly vehicles in five cities as part of efforts to reduce emissions, save energy and spur the development of green technology.
Under the trial project, the government offers subsidies of up to 60,000 yuan (8,850 dollars) for hybrid and electric cars and 3,000 yuan for fuel-saving models.