Suspected Tamil Tiger rebels killed three people and wounded 14 in two roadside bomb attacks and a shooting in north Sri Lanka on Tuesday, the military said.
Five of the wounded were schoolchildren.
One blast occurred near the garrison town of Jaffna and the other near a market in the small nearby town of Chavakachcheri along a highway that leads to a forward defence line separating government from rebel territory, officials said.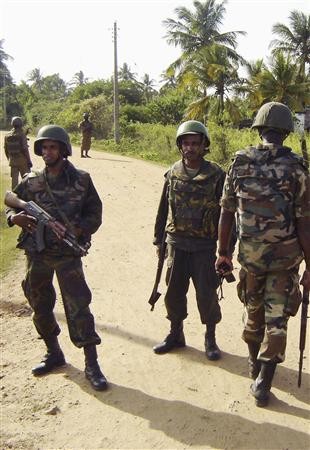 Soldiers stand guard in Vavuniya to control Tamil Tiger extremists.
One officer from the government's Road Development Authority was shot dead in a separate incident in the northern district of Vavuniya, said military spokesman Brigadier Prasad Samarasinghe.
The attacks come after a naval battle off the island's northern tip on Sunday and in the wake of a major military setback for the Tigers in the island's east, where the army has captured a rebel stronghold and vowed to evict them from nearby jungle altogether.
"I'm asking all people to be extra vigilant. There could be more bus bombs to create backlashes in the face of these defeats," Samarasinghe told a media briefing, referring to two bus bombs in the south this month that killed 17 civilians.
Residents in the northern Jaffna peninsula heard heavy artillery shelling early on Tuesday, and many stockpiled food fearing fighting could now focus on the area, which is cut off from the rest of the island by rebel lines.
"There is fear in my heart whether this will be a repetition of 2000, when we had to flee," said 37-year-old housewife Sushila Kathirgaman.
"From yesterday I am stocking goods, because not only me -- even my neighbours -- feel that the LTTE might launch a heavy attack on Jaffna," she added.
Prices of goods from rice to sugar were marked up heavily in Jaffna shops following what the military said was a rebel attack on a cargo ship in waters off Jaffna on Sunday that led to a naval battle.
The government has given the Tigers an ultimatum either to agree to peace talks or face more war and expulsion from the island's east, which analysts fear could escalate a new chapter of a two decade civil war that has killed more than 67,000 people since 1983.
The Tigers say they cannot trust the government, and have resumed their fight for an independent state for minority Tamils they accuse successive majority-Sinhalese governments of discriminating against.