The controversial issue of goal-line technology will be discussed at a meeting of the International Football Association Board in October, FIFA president Sepp Blatter said Wednesday.
During the World Cup in South Africa, Blatter indicated it would be tabled at a meeting of football's rulers in Wales in July, but that never happened.
"At this meeting (in October), we will bring the point of goal-line technology. It is now on the agenda," he said in Singapore where he is attending the Youth Olympic Games.
Goal-line technology was forced back onto FIFA's agenda after England's Frank Lampard had a goal disallowed in South Africa, despite replays showing the ball clearly crossed the line.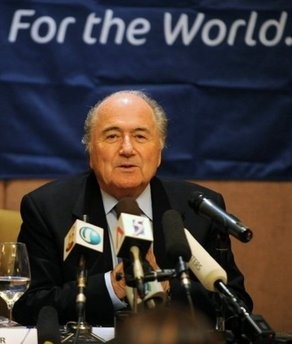 FIFA president Sepp Blatter has said the world football authority is set to discuss the controversial issue of goal-line technology at a meeting of the International Football Association Board in October
FIFA have previously rebuffed all demands to use video technology to resolve contentious refereeing decisions, despite it being successfully implemented in other sports such as tennis, cricket and rugby union.
Their rationale has been that it would disrupt the free-flowing movement of the game.
But with international pressure growing, Blatter has softened his stance, and said Wednesday that the technology could be allowed providing it was reliable.
"My personal opinion on goal technology has never changed," he said.
"I have said if we have an accurate and simple system then we will implement but so far we have not had a simple, nor an accurate system."
Blatter also took the opportunity to demand answers from North Korea after reports that its World Cup squad was publicly humiliated and coach Kim Jong-Hun sentenced to hard labour.
The world football governing body this week opened an investigation and sent a letter to the North Korean football authorities in relation to the allegations.
It followed new, unspecified, evidence brought to its attention by Chung Mong-Joon, the powerful South Korean former chairman of Hyundai, who is also the president of the South Korean Football Association.
The showing of live games in the impoverished communist state had been banned to avoid national embarrassment, but after the Brazil game which North Korea lost 2-1, state television made the Portugal match its first live sports broadcast ever.
They could not have picked a worse game, with Portugal's hail of goals leaving the commentator speechless and they eventually conceded the match 7-0.
According to Radio Free Asia, on their return team members were made to stand on a stage at the People's Palace of Culture in the capital Pyongyang and were subjected to "ideological criticism" for six hours.
The players were apparently forced to criticise coach Kim, who was punished for "betraying" Kim Jong-Un -- one of Supreme Leader Kim Jong-Il's sons and heir apparent.
He was reportedly expelled from the Workers' Party of Korea and sentenced to hard labour on a building site.
Blatter has also defended the scheduling of international matches, telling critics to stop making so much "noise".
Virtually all European nations will be in action on Wednesday, with England facing Hungary and France against Norway just a month after the end of the World Cup.
Several club managers and players have made it clear they are not happy, concerned at the impact it will have on their preparations with the new season getting under way on Saturday.