Britain's ex-prime minister Tony Blair said he was "desperately sorry" over the deaths in Iraq, but "can't regret the decision to go to war", in his memoirs released Wednesday, in which he also called his successor a "disaster."
In "A Journey", Blair said he was "sorry for the lives cut short" and wept over the loss of life, but maintained it was right to remove dictator Saddam Hussein from power.
The war in Iraq is one of the defining events of Blair's premiership and he laid bare his beliefs on the conflict in his written account of his time in office.
Blair also took a swipe at Gordon Brown saying he had "zero" emotional intelligence and his reign as prime minister after he took over from Blair was "a disaster" that was "never going to work."
Laying out a case for the war, he said: "I have often reflected as to whether I was wrong. I ask you to reflect as to whether I may have been right."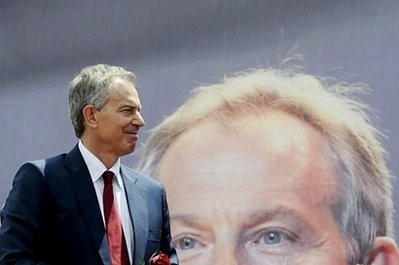 Former British prime minister Tony Blair, pictured in July, said he was desperately sorry over the deaths in Iraq, but can't regret the decision to go to war, in his memoirs released Wednesday, in which he also called his successor a disaster
He said the aftermath of the 2003 invasion was "terrible" but, "never did I guess the nightmare that unfolded".
He said of his opponents: "Do they really suppose I don't care, don't feel, don't regret with every fibre of my being the loss of those who died?
"To be indifferent to that would be inhuman, emotionally warped. But it is not that accusation that causes the anguish."
Blair said he still felt anguish for the relatives of those killed in the conflict -- British soldiers, their allies, Iraqi civilians, diplomats and random casualties such as murdered hostages.
"Tears, though there have been many, do not encompass it," he wrote.
"I feel desperately sorry for them, sorry for the lives cut short, sorry for the families whose bereavement is made worse by the controversy over why their loved ones died, sorry for the utterly unfair selection that the loss should be theirs."
Blair said he felt "sick" at Britain's Iraq Inquiry at being asked if he had regrets, "angry" at being put in that position "in an inquiry that was supposed to be about lessons learned, but had inevitably turned into a trial of judgement, and even good faith.
Blair said: "I can't regret the decision to go to war.
"Never did I guess the nightmare that unfolded, and that too is part of the responsibility."
As for Iraq's post-invasion descent into a bloody insurgency, Blair wrote: "The truth is we did not anticipate the role of al-Qaeda or Iran.
"Whether we should have is another matter; and if we had anticipated, what we would have done about it is another matter again."
"On the basis of what we do know now, I still believe that leaving Saddam in power was a bigger risk to our security than removing him and that, terrible though the aftermath was, the reality of Saddam and his sons in charge of Iraq would at least arguably be much worse," he said.
In conclusion, he said: "It is for these reasons that I am unable to satisfy the desire even of some of my supporters, who would like me to say: it was a mistake but one made in good faith."
Turning to the man who succeeded him as prime minister, Blair said Brown was "maddening", "difficult" and wore him down with "relentless personal pressure", as he unleashed his feelings on Brown's shortcomings.
While acknowledging Brown's strengths, his succession was "unwise because it was never going to work," Blair wrote.
Brown lacked the political instinct "at the human gut level", Blair said.
"Political calculation, yes. Political feelings, no. Analytical intelligence, absolutely. Emotional intelligence, zero."
He said his party has lost power through abandoning his "New Labour" centrist, modernising approach -- comments that will resonate deeply in the party on the very day it begins voting to choose a new leader.
The party lost the May election because "it stopped being New Labour". Unless Brown defined himself thus, his premiership "was going to be a disaster. I knew it."
Blair went into detail on "the Gordon problem -- the combination of the brilliant and the impossible".
Blair said any deal to hand over power was "an assurance that should never have been asked or given" and should have shown Brown was "disqualified" for the premiership.
It was "not our right. Not wise. Not sensible politically, let alone democratically".
Though Brown was the "standard-bearer" for dissent in the party, Blair concluded it was less damaging to keep him inside the circle than kick him out.
Had he sacked Brown, "the party and the government would have been severely and immediately destabilised, and his ascent to the office of prime minister would probably have been even faster," he said