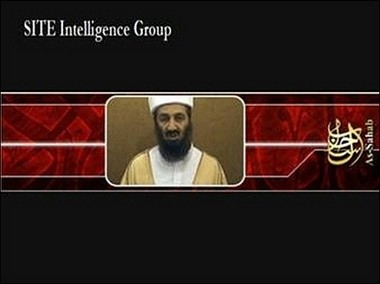 This image released by the SITE Intelligence Group reportedly shows Osama Bin Laden during a new video message to be released soon. (AFP Photo)
Osama Bin Laden plans to emerge from the shadows to taunt the United States again in a video message marking the sixth anniversary of the September 11 attacks, US-based monitoring services said on Thursday.
The video from the world's most wanted man would be the first such appearance by the Saudi extremist since October 2004, when he threatened new attacks against the United States just days before a US election.
"The SITE Intelligence Group has learned that a new video message is forthcoming from the head of Al-Qaeda" on the 9/11 anniversary, said the group, which monitors extremist websites and publications.
The Al-Qaeda network's media arm announced the video in a notice posted on jihadist forums at about 5:15 pm (2115 GMT), according to SITE.
The video of the soft-spoken Al-Qaeda leader who has claimed credit for the 9/11 attacks will be closely watched with every word and visual detail analyzed and dissected by intelligence agencies in Washington and around the world.
Bin Laden has avoided capture since the 9/11 attacks on New York and Washington that killed nearly 3,000 people and jolted American society. He has since inspired an eruption of anti-Western terrorism while his Al-Qaeda network has repeatedly threatened to attack US targets again.
Bush declared a "war on terror" after 9/11 and said he wanted Bin Laden "dead or alive" but the Al-Qaeda chief disappeared after the US-led invasion of Afghanistan to topple Al-Qaeda's Taliban allies.
Widely believed to have slipped away during a December 2001 battle in Afghanistan's Tora Bora mountains, he is now suspected of hiding somewhere in the remote tribal areas along the Pakistan-Afghanistan border.
The US Congress recently increased the reward for his capture to 50 million dollars but Bush no longer talks of nabbing Bin Laden.
Al-Qaeda now promotes itself in numerous videos and web postings but Bin Laden retains a low-profile, staying out of sight while issuing only occasional statements.
Thursday's online notice included a photo of Bin Laden in which his black beard did not have the usual streaks of gray. He was also not wearing a camouflage jacket as in previous appearances.
Another US-based monitor of extremist or jihadist websites, IntelCenter, confirmed the notice from Al-Qaeda's media production group, as-Sahab.
"We expect the release to occur within the next 72 hours," IntelCenter said in a statement.
In his 2004 video, Bin Laden told Americans that President George W. Bush "is still misleading you."
In Afghanistan, he eventually commanded and financed his own brigade of militants from across the Arab world that later evolved into Al-Qaeda, or "The Base."