With less than two weeks until the start of the Premier League season, champions Chelsea and leading contenders Manchester United are preparing for a serious challenge from big-spending Manchester City.
While Chelsea manager Carlo Ancelotti and United boss Sir Alex Ferguson have been content to make only minor alterations to their squads, City chief Roberto Mancini has been acquiring new players with the carefree relish of a lottery winner let loose in Harrods.
Mancini has spent over 80 million pounds on four new players as City's billionaire Abu Dhabi-based owners continue to lavish cash on the club in an attempt to buy their way to success.
Recruiting Yaya Toure from Barcelona, Valencia winger David Silva, Alexander Kolarov from Lazio and Hamburg defender Jerome Boateng is a quite a statement of intent.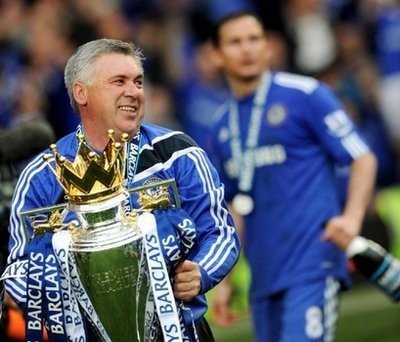 Chelsea's Italian manager Carlo Ancelotti celebrates with the Barclays Premier League trophy after Chelsea won the title at Stamford Bridge, West London, England, on May 9.
The spending is unlikely to end there as Mancini eyes a 25 million pounds move for Inter Milan's Mario Balotelli and a similiar offer for Aston Villa midfielder James Milner.
City's approach to squad-building will bring scorn from those who prefer teams to develop more organically, but past title triumphs by Chelsea and Blackburn prove money can buy success in the Premier League.
The prospect of City mounting a sustained bid to win their first league title since 1968 looks increasingly realistic, with Ancelotti admitting Mancini's team could be a major threat.
"In theory Man City could be very difficult opponents. They have bought some fantastic players," Ancelotti said.
"It's difficult to build a team in one summer but Roberto Mancini has the experience to do this, so it can be done."
City's spending recalls the period when Chelsea owner Roman Abramovich engaged in an equally massive spree to turn his club into champions.
Those days are gone now and Ancelotti has had to cut his cloth accordingly, with few new faces arriving at Stamford Bridge since the Italian took charge last year.
Not that Chelsea need much improving after winning the double last season.
Although Michael Ballack, Joe Cole and Juliano Belletti have all been released, Ancelotti has brought in only Israel midfielder Yossi Benayoun from Liverpool.
He seems content that a team with the spine of John Terry, Frank Lampard and Didier Drogba will continue to be competitive whoever plays alongside them.
"We have the same aims as last year," Ancelotti said. "But last year we went out of the Champions League too early so we have to do better."
United, hamstrung by the club's massive debts, have had to adopt the same conversative approach in the transfer market.
Ferguson has put his faith in the likes of Mexico forward Javier Hernandez, 22, Italian striker Federico Macheda, 18, and former Fulham defender Chris Smalling, 20, and he said: "They give us the back-up we are going to need.
"There is purpose in the way they play their football. It is not just talent.
"You don't play at this club with just talent, you need something else and they have that something else."
After five years without a trophy, Arsenal manager Arsene Wenger expects great things, even though his plans could be destablised by Cesc Fabregas's desire to join Barcelona.
"I am very confident we'll do better than last season," Wenger said. "We finished third last year and we hope we can improve on that."
Tottenham will hope to build on their impressive fourth place finish by winning their Champions League play-off to make the group stages and maybe even aiming for a surprise title challenge.
At Anfield, new Liverpool boss Roy Hodgson has plenty of work to do to improve a team that finished seventh last season - their worst effort for over a decade.
Former Fulham boss Hodgson will bring tactical nous and a cool head, but he could also do with hearing that Spain striker Fernando Torres is willing to stay.