U.S. Vice President Joe Biden wraps up a tour of Central Europe in the Czech Republic on Friday, attempting to shore up support for a reworked missile defense plan and reassuring critics that Washington remains committed to guaranteeing the country's security.
Biden, whose brief stay in Prague follows stops in Poland and Romania, is scheduled to meet with both Czech President Vaclav Klaus and Prime Minister Jan Fischer, separately, as well as with other political leaders.
He is seeking support for Washington's revamped missile defense plan, a month after the Obama administration scrapped blueprints to base a missile defense shield in Eastern Europe designed to shoot down long-range missiles that might be fired from rogue states such as Iran. Russia had strongly objected that the system jeopardized its own security.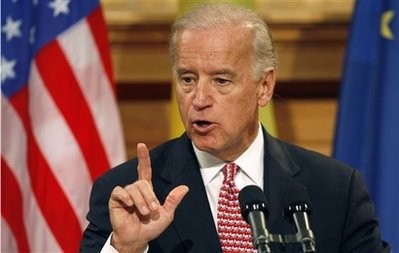 U.S. Vice President Joe Biden gestures while delivering a speech at the Central University Library in Bucharest, Romania, Thursday, Oct. 22, 2009.
Instead, Washington proposes focusing the project on short- and medium-range interceptors.
The decision has sparked fears in formerly communist Eastern Europe that Washington was sacrificing its interests in order to improve ties with Russia.
On Wednesday, Poland eagerly signed on to the revamped U.S. missile shield.
But in the Czech Republic, biting comments from former but still influential political figures tainted the atmosphere ahead of Biden's arrival.
Biden "should clearly explain the reasons that led the Obama administration to its decision not to build a radar in the Czech Republic," Former Prime Minister Mirek Topolanek said in a statement.
Topolanek, whose government signed treaties with the Bush administration to build the radar system and took a lot of heat from a majority of Czechs who opposed the plan, said the Obama administration's moves toward Russia raise questions about "whether the United States is stepping back from the region of Central and Eastern Europe in exchange for better relations with Russia."
Former Czech President Vaclav Havel told the U.S.-funded Radio Free Europe/Radio Liberty that he expected Biden to "make it clear that America is interested in us, that someone else has not pushed us out of America's field of vision."
Analysts, meanwhile, said it was unlikely Biden would leave with a clear commitment from Prague, since the country's weak caretaker government lacks a mandate to move forward on any strategic defense issues, including missile defense deals. A new government will be formed only after general elections in May.
The country has been in political limbo since Topolanek's government lost a parliamentary no-confidence vote in March, just before President Barack Obama visited Prague.
"This government could hardly negotiate anything concrete," said Pavel Prikryl, an analyst at Prague's Association for International Affairs.