MILAN, Nov 13, 2011 (AFP) - Silvio Berlusconi's resignation deals a blow to the billionaire prime minister's family business which analysts say has always profited from his political role.
The verdict of the Stock Exchange cannot have been clearer as his already struggling Mediaset television group plummeted 12 percent on Wednesday, a day after he announced would step down.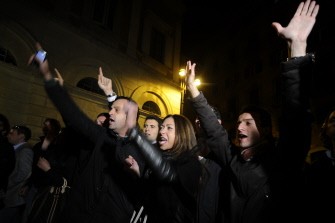 AFP - Protestors shout slogans as Italy's Prime Minister Silvio Berlusconi leaves Palazzo Grazzioli, his personal residence, to reach the presidential palace, to formally submit his resignation to Italy's President on November 12, 2011 in Rome.
A feeling that the end is nigh has long been anticipated as Mediaset shares plunged 49 percent in six months, when Milan stocks fell only 30 percent in the same period.
"In fact markets acknowledge that there is a conflict of interests" that has helped the group, said Fabrizio Perretti, economics professor at Milan's Bocconi university.
"A number of decisions taken in the past have given Mediaset an edge over its rivals or weakened them," said another financial analyst familiar with the issue who did not want to be named.
Revealingly enough, Berlusconi was having lunch with his daughter Marina, son Piersilvio and longtime buddy Fedele Confalonieri, president of Mediaset, at his sprawling Arcore estate near Milan when rumours about his imminent resignation spread in Rome on Monday.
Berlusconi's daughter is chairwoman of the Fininvest Holding which is controlled by Berlusconi's family and Piersilvio deputy chairman of the Mediaset Group, the commercial television network founded by his father.
Left-leaning newspaper La Repubblica labeled the Arcore luncheon a "council of war" to mull over the "dynasty's future" as his critics argue that Berlusconi's political career has had a rather positive influence on what is Italy's third largest personal fortune.
While its origins remain murky, Berlusconi's worth jumped from nearly two billion dollars in 1994 when he first came to power to nearly 13 billion in 2000, according to Forbes magazine.
Due to the economic and financial crisis his fortune is now estimated at about eight billion dollars.
Berlusconi not only pushed a number of laws through parliament that protected him from prosecution but also had legislation adopted that shielded his companies.
The list is long and includes state subsidies for the sale of digital decoders that would have benefited his commercial TV network, until Europe's top court stepped in to ban such aid; a VAT hike and a limit on commercials on pay-TV that affected his rival Sky; and the free attribution of digital television frequencies rather than by public sale.
As prime minister Berlusconi also wielded much influence on the operations of public Rai television.
Perretti said "wiretaps proved that Rai officials, who were former Mediaset people, agreed with Mediaset on programming issues, to favour the latter".
And advertisers also preferred the channels owned by Berlusconi because of his political role.
"If we compare the 2000-2010 advertising revenues when Berlusconi was in charge for eight years, Rai revenue was 58 percent of Mediaset's in 2000, and 47 percent in 2010 while the number of viewers of public television remained higher," said Perretti.
"Advertisers are finding it difficult to say no" to Berlusconi, he added.
Berlusconi should therefore not expect to do as well financially in the future, above all if the next government decides to boost competition in the televisual sector.