Belgium woke up to a new political crisis Tuesday after Prime Minister Yves Leterme resigned overnight unable to broker a power-sharing agreement that has split country in two for more than a year.
King Albert II, informed by Leterme of his decision is "weighing" whether to accept the move, a palace statement said in the early hours of the morning, and will begin consulting political leaders immediately.
"It appears that the communities' conflicting visions of how to give a new equilibrium to our state have become incompatible," Leterme said in a statement, after his shock move overnight.
But he added that "state reform remains essential", implying that with or without him at the head of government the community issue will continue to haunt Belgium.
It is the third time that the 48-year-old Flemish conservative has failed to bridge the deep divisions between Belgium's two main linguistic communities over whether, and how, to devolve federal powers down to them.
Leterme had set himself the deadline of July 15 to reconcile the parties from Flanders -- representing some 60 percent of Belgium's 10.5 million people -- and Wallonia on a way to extensively reform the federal state.
Flanders, Belgium's Dutch-speaking northern half, craves more regional powers to reflect its prosperity. It also resents subsidising the less affluent, French-speaking Wallonia region to its south.
Leterme's resignation ushers in a new period of uncertainty, just as Belgium appeared to have found some sense of stability following a six-month period in which no government could be formed after June 10 elections last year.
Since that crisis, French speakers have agreed to enter into reform talks, realising it was perhaps the only way to stop Belgium breaking up, and they expressed surprise early Tuesday that the premier had thrown in the towel.
"There is a strong willingness among French parties to go deep into these reforms," deputy premier Reynders, who leads the French-speaking Liberals, told Belgium's Premiere radio.
"I think we still have time to find a solution in the hours and next few days within the framework of what we already have," he said. "Otherwise we'll have to look for something else."
The questions on many minds Tuesday was what will happen next.
The king could flatly refuse to accept Leterme's resignation -- the premier only took office in March -- and demand that he stay on, either in his current capacity or with a fixed and limited mandate.
In this tense climate, no one wants early elections, according to analysts, and indeed the problem needs to be resolved if it is to avoid boosting fringe parties in the fast-approaching regional elections in June next year.
"The king now has to be given time to consult a number of people," Reynders said. "It's far too early to say what will happen next."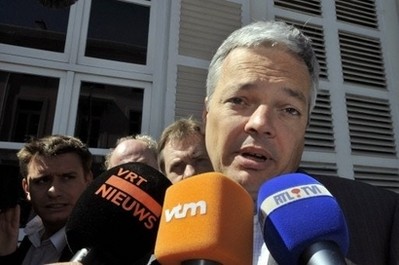 Belgian Deputy Prime Minister Didier Reynders talks to the press.
A recent opinion poll found that 49.7 percent of Flemish people are in favour of Belgium splitting into its two main linguistic halves.
Yet despite the risks, French speakers have rejected any attempt to break "national solidarity" by, for example, dividing up the social security system into regional branches for each linguistic community.
Another key problem is how to meet the Flemish demand for a special voting district around Brussels to be split up.
This would in effect do away with an arrangement that allows French-speakers in the Flemish suburbs to vote for Francophone politicians in the capital, where they are in the majority.
The complex issue has remained a political hot button, but Leterme had been expected to push back negotiations on the thorniest issues, even though that would probably have created a backlash among his partners.