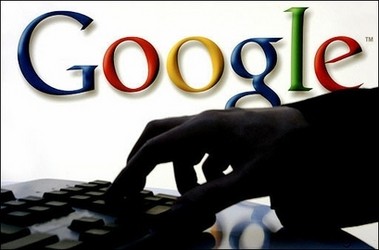 Logo of web search engine Google seen behing a computer keyboard
Lawyers for Belgium's French-speaking newspapers and Internet search engine Google clashed in court, during a hearing into a copyright case against the US giant.
The newspaper editors, who have lodged the case against Google, accuse it of violating copyright rules by displaying parts of articles, photos and graphics from their media websites on its own site without permission or compensation.
"Google sucks up content from web sites and recopies it onto its site," said Bernard Magrez, lawyer for Copiepress, an association representing the papers.
For example, he said, Internet users logging on to the website of Belgian newspaper Le Soir had to pay to access its archived articles but if they went onto Google's site, they could access those articles for free.
Hitting back, Google's lawyers said the papers were seeking to profit from its immense financial success in recent years.
"What's at stake today is not copyright but money," lawyer Erik Valgaeren told the court in Brussels.
Google's main defence is that it is a search engine that helps users find information on other websites and not a so-called portal that hosts its own information.
Google News only displays 150 characters per article, said Google lawyer Celine Eyers. The company considers that it should not have to pay copyright fees because it only directs users to newspapers sites.
"Google thinks that newspapers should thank it for raising the profile of their work," said Karine Doutrelepont, a lawyer for an association which manages copyright for Belgian journalists and backs the newspapers.
But, she added, "it asphyxiates the entire content through appropriation."
After a hearing lasting more than three hours, the presiding judge said she would issue a ruling on the case "after the Christmas holidays," without offering a precise date.
On September 5, a lower court ordered Google News to stop reproducing content from French-language and German-language newspapers in Belgium on its Belgian website.
The California-based company, which faced a daily fine of one million euros (1.3 million dollars) if it did not comply with that ruling, more or less acquiesced, although there was some grumbling from the papers about items still available on Google's archive section.
Fresh from that court victory, the newspapers asked Microsoft to stop the unauthorised publishing of articles on its "www.msn.be" site, which the company later did.
The case in Belgium is being watched by other news providers, including Agence France-Presse, which has been in dispute with Google in France as well as in the United States.
After opening news websites for about thirty countries in four years, Google launched a Belgian version in January, much to the concern of the country's French-speaking newspapers.