Two Thai policemen have been killed in attacks near anti-government protests, raising tensions Saturday as the government struggles to negotiate a peace "roadmap" to end a crippling political crisis.
Grenade blasts and a drive-by shooting targeted security forces facing off against "Red Shirts" protesters at their massive rally encampment in Bangkok's main shopping district.
It was the latest outbreak of violence in a two-month confrontation that has also triggered deadly clashes and other explosions, which have left another 27 dead and nearly 1,000 injured.
"Two policemen have been killed in these incidents, I think that someone doesn't want the protests to end," said police operations centre spokesman Major General Prawut Thavornsiri.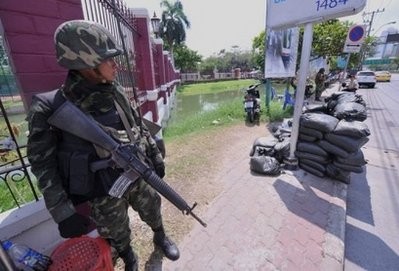 Thai soldiers stand guard outside Lumpini park where a grenade attack near to the 'Red Shirt' anti-government protesters' fortified camp took place, in Bangkok, on May 8
The grenades hit in the early hours of the morning at a security checkpoint in front of a city park that forms the edge of the heavy fortified protest camp, which is surrounded by makeshift barricades.
"Three M-79 grenades were fired at a security checkpoint manned by police and soldiers," said Prawut.
A hospital official said a 35-year-old policeman died during surgery. The Bangkok Emergency Medical Service said five police and three soldiers were wounded in the blasts.
Earlier, one policeman was killed and four others -- two police and two civilians -- were injured when a man opened fire in the nearby Silom financial district, which is under heavy guard to prevent the protests spilling over.
"A man on a motorbike fired at police who were on patrol," said police spokesman Lieutenant General Pongsapat Pongcharoen.
The latest attacks were near the site of a grenade blast on April 22 that killed a 26-year-old Thai woman and injured scores of other people, including foreigners.
Reds leaders on Saturday denied any involvement in the attacks and called on Prime Minister Abhisit Vejjajiva to withdraw the security forces, stationed in the Silom financial district, under a proposed reconciliation plan.
"Red Shirts protesters still adhere to a policy of non-violence, we have nothing to do with the incidents last night," Weng Tojirakarn, one of the movement's leaders, told supporters from their rally stage.
"It shows that it does not benefit anyone to maintain the troops on Silom," he said. "So if Abhisit wants to prove his sincerity he must lift the state of emergency and withdraw all the troops."
The protest area has been guarded by riot police and troops since the Red Shirts occupied the area eight weeks ago, demanding elections to replace Abhisit's government, which they say is the puppet of the nation's elites.
Abhisit is now fighting to keep alive his reconciliation process, which envisages parliament being dissolved in September ahead of national polls the following month.
The plan has met growing opposition among rival protest movements, and the government and the Reds are struggling to bridge their differences over setting a specific date for the dissolution of the lower house.
"We have to seek cooperation from everybody to return Thailand to peace," one of Abhisit's deputies, Suthep Thaugsuban, told reporters Friday. "Everybody must avoid violence and help solve the problem."
However, the Reds are insisting on a specific date for the dissolution before leaving their encampment, which they have fortified with barricades made from fuel-soaked tyres, bamboo stakes and razor wire.
The rival pro-establishment "Yellow Shirts" -- who blockaded Bangkok's airports in 2008 in their own protests -- have rejected Abhisit's roadmap and election plan and called on the prime minister to resign.
And in another setback, a moderate pro-government group known as the "Multicoloureds", whose rallies in the capital have also drawn thousands of supporters, called for the election date to be pushed back.
In a colour-coded crisis, Thailand is largely split between the mainly rural poor and urban working class Reds -- who broadly support fugitive former premier Thaksin Shinawatra -- and the elite-backed Yellows.