Thailand's worst floods in half a century reached the edge of downtown Bangkok on Friday, threatening some underground rail stations and forcing the closure of a major shopping centre.
About 20 percent of the capital is now submerged in floodwater contaminated by rubbish, dead animals and industrial waste, raising fears about outbreaks of disease in the densely populated metropolis of 12 million people.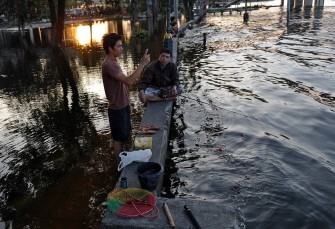 Local residents fish in the overflowing Chao Praya river in Bangkok on November 3, 2011
The slow-moving water is now just a few kilometres (miles) away from business and tourist districts, despite reassurances from the government that central Bangkok would be spared.
The floodwater arrived at the Lat Phrao intersection on the northern edge of the city centre early Friday, prompting the closure of the Central Plaza shopping mall.
A spokesman for the Bangkok metro said that three subway stations -- Lat Phrao, Phahon Yothin and Chatuchak Park -- were at risk and might have to be shut down if the water rose to 40 centimetres (16 inches) outside.
"We have deployed officials at all risk stations to assess the situation hourly," he said.
The floods -- caused by unusually heavy rains and failure to release enough water from dams in the early part of the monsoon -- have killed 442 people and damaged the homes and livelihoods of millions around the country.
The authorities have issued an evacuation order for eight Bangkok districts out of a total of 50 in the capital, and for certain areas in four others.
The 12 districts have a combined official population of 1.7 million people -- far more than government shelters can accommodate.
Many have chosen to stay in their homes despite risks including electrocution, disease and lack of food and drinking water, complicating relief efforts.
The authorities are attempting to drain the floods through waterways in the east and west of the sprawling capital and out to sea. But many roads have also become rivers as the seemingly unstoppable mass of water creeps southwards.
Worst-hit residents have complained that their homes are being sacrificed to save downtown Bangkok's shopping malls, luxury hotels and the houses of the wealthy elite, triggering protests and the destruction of some flood barriers.