LONDON (AFP) – Last-ditch talks to try and halt a planned strike by British Airways cabin crew were on Saturday abandoned after dozens of noisy protestors stormed the building where negotiations were being held.
BA chief executive Willie Walsh was harangued by protestors, television pictures showed, and police said they had to escort him from the building in London after the security breach.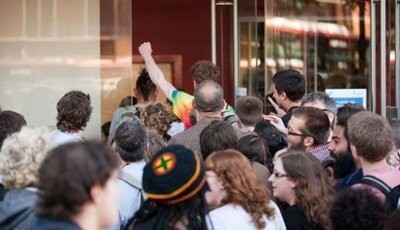 Protestors break in to the Acas headquarters in central London during talks between Unite union representatives and British Airways. AFP photo
Airline staff were set to hold a five-day strike from Monday, the latest move in a long-running and bitter dispute between BA and the Unite trade union over working conditions at the struggling carrier.
It is not yet clear whether talks will restart Sunday, with BA saying it was "assessing our position" before deciding whether to commit to them.
Dozens of protestors, many waving Socialist Workers' Party banners, got into the headquarters of employment dispute resolution service Acas after the talks had been under way for over five hours.
They started a noisy protest inside the building, chanting: "Willie, Willie, Willie, out, out, out" and surrounding Walsh and union officials, television pictures showed.
Afterwards, Acas said that while it was "disappointing" that the talks had broken up in such a way, it was "in touch with the parties to endeavour to restart the discussions".
For its part, Unite said it was "ready to resume talks" at any time, adding it was crucial that "no time is wasted" in trying to settle the dispute. But BA said it had not yet decided whether to rejoin talks.
Walsh has faced accusations that he is trying to break the unions at BA and Unite accuses BA of imposing changes on cabin crew and refusing to negotiate openly and fairly.
The BA chief executive, though, insists that the airline is struggling for its very existence.
If Monday's strike does go ahead, it would come hot on the heels of BA posting a record annual pre-tax loss of 531 million pounds (609 million euros, 765 million dollars) Friday on slumping sales.
The airline, which is slashing costs and merging with Spanish rival Iberia in a bid to return to profitability, has been hit hard by the global economic downturn which has decreased demand for air travel.
It also faced a tough start to the current financial year due to the closure of airspace across Europe for up to a week last month due to ash from an Icelandic volcano. The shutdown was the biggest in Europe since World War II.
While BA and Unite have reached broad agreement on pay, the sticking point is now the heavily discounted flights available to off-duty cabin crew -- key perks which have been taken away from workers who have gone on strike.
BA had won an injunction blocking a first five-day strike -- due to have started last Tuesday -- by arguing that the union had failed to report the results of the ballot properly to its members.
But the union later won an appeal against the injunction.
If the strike does go ahead next week, BA says it is confident that thousands of cabin crew will ignore it and that it will be able to fly more than 70 percent of its passengers.
The first five-day action is due to be followed by two further strikes starting on May 30 and June 5.