After seven months at sea, an Australian teen on Thursday was just two days away from reaching the finish line in her bid to become the youngest person to sail solo, nonstop and unassisted around the world.
Thousands are expected to line Sydney Harbour on Saturday to offer a hero's welcome to 16-year-old Jessica Watson, who has battled 40-foot (12-meter) waves, multiple knockdowns and critics who called her too immature and inexperienced for the treacherous journey.
"You've got to have a goal, you've got to go for something," Watson told The Associated Press last June, a few months before she set out in her pink 34-foot (10-meter) yacht for the nearly 23,000 nautical mile voyage. "I have the experience, I have the team, I have the preparations. I think I can do it."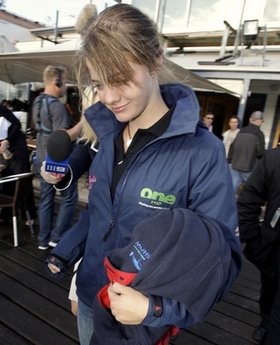 In this file photo from Oct. 18, 2009, teenage sailor Jessica Watson walks to her boat after her final shower on land as she prepares to depart Sydney on her boat Ella's Pink Lady in an attempt to become the youngest person to sail non-stop, solo and unassisted, around the world.
Many thought she couldn't, and her parents faced withering criticism from those who believed allowing a teenager to attempt such a feat was foolish, insane — even borderline criminal. But the couple repeatedly defended their decision, even after their daughter, who has been sailing since she was 8, collided with a merchant ship during a test run.
Watson, from Buderim, north of Brisbane in Queensland state, sailed out of Sydney on Oct. 18. She traveled northeast through the South Pacific and across the equator, then south to Cape Horn at the tip of South America, across the Atlantic Ocean to South Africa, through the Indian Ocean and around southern Australia. She has survived on prepackaged meals, the occasional freshly caught fish and a steady supply of chocolate.
Another Australian, Jesse Martin, who was 18 when he completed the journey in 1999, holds the current record for the youngest person to sail around the world solo, nonstop and unassisted. But Watson's feat will not be considered an official world record, because the World Speed Sailing Record Council discontinued its "youngest" category.
Some sailing enthusiasts have also argued that Watson didn't travel far enough north of the equator for her journey to count as a true round-the-world trek as defined by the record council's rules. Watson's management team has dismissed those claims and argued she doesn't need to adhere to the council's rules anyway, since they won't be recognizing her voyage.
"Call me immature but I've actually been having a bit of a giggle over the whole thing," Watson wrote on her blog last week. "If I haven't been sailing around the world, then it beats me what I've been doing out here all this time!"
Sixteen-year-old American Abby Sunderland of Marina del Ray, California, launched her own solo round-the-world bid in January. In May, she had to pull into port in South Africa for boat repairs, ending her nonstop attempt. She still plans to try to complete her voyage.
Watson's project manager Bruce Arms said he will sail out to the teen's boat late Thursday night, and follow her to the finish line. Watson is scheduled to dock at the Opera House.
"We've just got to make sure that when she hops off the boat she's not going to walk three steps and fall flat on her face," he told Australian Broadcasting Corp. radio on Thursday. "So I think everyone will be hanging onto her."
Despite the teen's excitement over reuniting with her family and her eagerness for a hot shower after months of cold, saltwater baths, Watson wrote on her blog Monday that she was sad her adventure was ending, and said she was nervous about how her life will change once she reaches dry land.
"But I'm not worried because I know that if I can find a reason to laugh while surrounded by huge waves, in the dark and after a knockdown, then I'll be able to smile through whatever comes my way," she wrote. "Oh dear I'm getting far too soppy and reflective, so I'd better finish up."