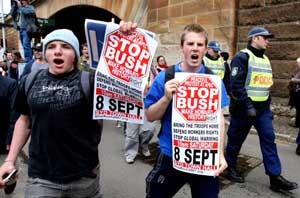 Students shout slogans during an anti-Bush demonstration in Sydney, Sept. 5, 2007 (AFP Photo)
US President George W. Bush was a "dunderhead" for thinking that sending troops to Iraq was making the world a safer place, an outspoken Australian politician said Wednesday.
Bush, whose five-day visit has placed Australia's biggest city Sydney under a security lockdown, spent the day in talks with Prime Minister John Howard and lunching with troops on the harbour.
While the US president was afforded the red carpet treatment, Greens Party leader Senator Bob Brown said it was wrong to think that Australia's security depended on maintaining a military presence in Iraq.
Bush told a press conference in Sydney earlier Wednesday that it was important for Australia's security that "we hang in there with the Iraqis and help them."
"He would say that, because when it comes to Australia's interests, he's a dunderhead and Iraq has made us less safe," Brown told reporters.
The Greens leader, who was frogmarched out of Parliament House in Canberra in 2003 when he interrupted an address by Bush, said Australia should never have joined the US-led Iraq war.
"What John Howard should have been saying to George Bush is, 'We're withdrawing from Iraq and we are an independent country and we are on our own two feet, we're not deputy sheriff,'" Brown said.
Brown, who is yet to receive a response to a written request to meet with Bush during his visit, said the president was welcome in Australia.
"Australia's got a wonderful regard for the United States," he said, "but not for George Bush."