Australian Prime Minister Julia Gillard has vowed to keep the country stable while she tries to form a government following an inconclusive general election.
Gillard, whose Labor Party slumped at the ballot box just two months after she deposed the former leader Kevin Rudd, said she planned to form a minority government to resolve the stalemate.
Labor and the opposition Liberal/National alliance, led by Tony Abbott, were set for a dead heat of 73 seats each, missing the 76 needed for a majority, according to public broadcaster ABC.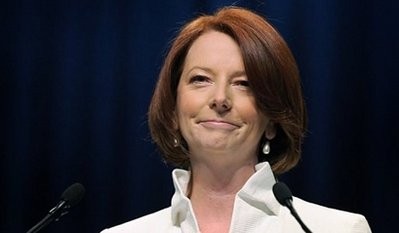 Australian Prime Minister Julia Gillard speaks to her supporters at a national elections event in Melbourne
Neither side conceded defeat, with Gillard announcing her intention to try to form a government as she began talks with the handful of independent lawmakers -- and one from the Greens -- who now hold the balance of power.
"We have robust democratic institutions and processes, and as prime minister I will continue to provide stable and effective government... while the final votes are counted in this election," Gillard said on Sunday.
The Welsh-born Labor leader, Australia's first woman prime minister, suffered badly in Saturday's polls, which looked certain to bring the first hung parliament in 70 years as vote-counting went down to the wire in some marginal seats.
Her campaign was overshadowed by voter anger over Labor's June mutiny against Rudd, who won 2007 elections by a landslide and enjoyed enduring support until his approval ratings finally dropped this year.
Abbott said the outcome represented a "savage swing" against the government and showed Australians wanted new leadership.
Economists warned the result could hit financial markets, with both the Australian dollar and share prices expected to slide, threatening a mining-powered economy that has become the envy of the developed world.
AMP Capital Investors chief economist Shane Oliver said the result would add to investor nervousness.
But the would-be kingmaker MPs were coy about their intentions, with one saying the political horse-trading could take days or weeks to play out.
"We've got to let the dust settle, see where the numbers fall and then the independents and others on the crossbench will come to some arrangement as to who governs," independent Tony Windsor told Australian television's Seven Network.
"Someone will end up with 76 - I've got no doubt about that," he said.
The election campaign had promised a fascinating clash between Gillard, a feisty, unwed atheist, and Abbott, a married father-of-three who once trained as a priest and is nicknamed the "Mad Monk" for his colourful demeanour.
But voters were largely uninspired by a lacklustre campaign of small-scale promises, and responded by filing more than 600,000 spoiled ballots in a country where voting is mandatory.
The vote delivered Australia its first Aboriginal and Muslim lawmakers in the lower house, as well as its youngest, with university student Wyatt Roy, 20, elected just hours after voting for the first time.