Australia's only Greens MP Wednesday declared his support for Prime Minister Julia Gillard as tortuous negotiations to form a minority government inched forward.
Greens leader Senator Bob Brown said MP Adam Bandt would back Gillard's Labor party in parliament after she offered to set up a climate change committee, invest in dental care and study a high-speed east-coast rail link.
"We have made a decision here," Brown told a press conference. "We are the first people in this balance of power in both houses to make a decision.
"We think that will help lead to others making a decision."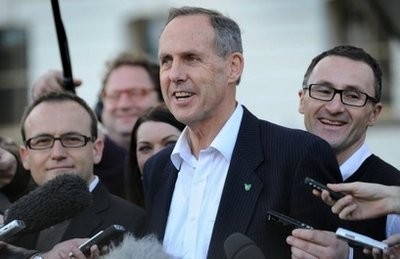 Greens Party leader Bob Brown speaks to the media in Melbourne in August 2010
The move was widely expected after the parties agreed to swap preferences votes during August 21 polls, and as the alternative Liberal/National coalition is led by Tony Abbott, who doubts mankind's influence on climate change.
Bandt's endorsement gives Labor 72 seats in the 150-seat lower house, still short of the 76 needed for a majority, with Abbott's centre-right coalition on 73, according to the official tally.
Four independents have yet to declare support for either side while one seat remains in doubt as postal and absentee votes are counted, after cliff-hanger elections returned the first hung parliament since 1940.
Seat numbers remain volatile as tallying continues in the extremely close contest, with candidates in some marginal seats separated by just a few hundred votes.
About 83 percent of ballots have been counted, and the definitive result is not due before the end of this week.
Disillusioned voters swung sharply away from Labor and towards the Greens, who enjoyed a record vote share, after the government hesitated to act on climate change and sacked elected prime minister Kevin Rudd in June.
The deadlock has been largely shrugged off by financial markets but experts warn protracted uncertainty could unsettle business confidence and harm Australia's reputation for stability.