Australia's central bank said Thursday that booming trade with China has overshadowed the importance of India as an equally lucrative market with better long-term prospects.
India accounts for about five percent of the world's gross domestic product after a decade of economic reforms, the Reserve Bank of Australia said, adding that the industrialising country's population was expected to rise steadily.
"While much attention has been paid to the fact that China has become Australia?s largest trading partner, less attention has been paid to the fact that India has also become an important destination for Australia?s exports," a quarterly bulletin said.
"In 2009, India ranked as Australia?s third largest export destination from being 15th in 1999, surpassing Australia?s more traditional destinations such as the United Kingdom and the United States."
Gold, coal, education and copper were among Australia's top exports to India, while the biggest imports include electrical parts, information technology and pearls and gems, the RBA said.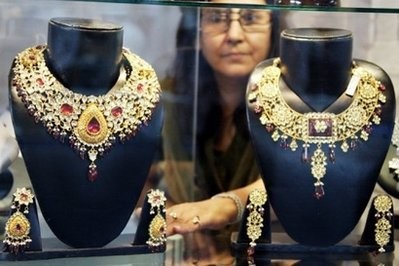 A sales representative arranges necklaces made from gold and gemstones at the International Gems and Jewellery Expo in Hyderabad in 2008.
Australia recorded a trade surplus with India of 15.5 billion dollars (14.5 billion US) in 2009, second only to its surplus with long-standing partner Japan.
The RBA said the population of India, unlike that of China and other Asian countries, was expected to grow steadily, with the United Nations projecting it would become the world's most populous nation in the next 20 years.
"India?s long-term economic growth is likely to benefit from a working-age population that is expected to grow until at least the middle of this century, unlike countries such as Japan, South Korea and China," it said.
Globally, the RBA said India's share of trade had tripled in the past 20 years to 1.5 percent, underpinned by strong output of processed petroleum products to the United Arab Emirates.
"Prospects for growth over coming years have improved noticeably," it said.
"Strong growth in India is also likely to see a deepening of the bilateral trade relationship between Australia and India."
The bank added that foreign ownership of Australian shares and bonds had also soared during the global financial crisis, with offshore investors now accounting for about 50 percent.
It said foreign investors had been attracted by Australia's financial stability backed by a strong banking sector.