Australian police boarded and searched an anti-whaling ship at the request of Japanese authorities on Saturday after activists cut short their annual harassment campaign and returned to port.
Police said they searched the Steve Irwin after it docked in Hobart, Tasmania, but refused to reveal the reasons for the search warrant or what they found on board.
"As a result of a formal referral from Japanese authorities, the Australian Federal Police can confirm it conducted a search warrant in boarding the Steve Irwin this morning," a police spokesman said.
"As enquiries are ongoing, it's not appropriate to comment any further."
The Steve Irwin, flagship of the Sea Shepherd conservation group, curtailed its harassment activities around the Antarctic, which involve blocking the Japanese whalers' path and hurling rancid butter at the controversial fleet.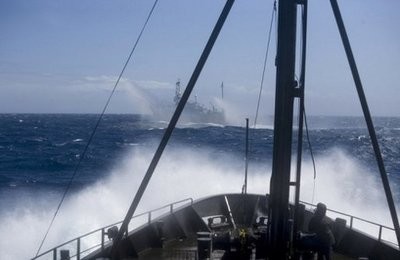 This December 14 photo released by the Sea Shepherd Society shows the Sea Shepherd's M/Y Steve Irwin (foreground) chasing the Japanese harpoon vessel Shonan Maru No 2 in a high speed pursuit in the seas off Antarctica.
A high-tech powerboat brought into the fray by the activists for the first time was dramatically scythed in two during a confrontation in January.
The boat's captain later boarded a Japanese ship trying to make a citizen's arrest of the captain and hand over a three million US dollar bill. He remains in Japanese custody.
Bob Brown, leader of Australia's Green party, condemned the move and said at least five police had boarded the ship.
"This is outrageous that Australian police are at the disposal of the Japanese whale killers," he said.
Diplomatic tensions have flared between Australia and Japan after Prime Minister Kevin Rudd pledged court action unless Tokyo agrees to phase out its hunts.
The two sides are currently locked in intense talks at the International Whaling Commission (IWC) in Florida. Japan kills hundreds of whales each year in the name of research using a loophole in a 1986 moratorium.
Despite the group's difficulties, the Sea Shepherd has said this year has been their best yet and had reduced the Japanese haul by half, costing the whalers between 70 and 80 million US dollars.
"This year's been our most successful campaign ever, we've shut them down for more days this year than ever before," Watson told AFP earlier.
"We've cost them their profits now for five years in a row.
"Our objective always is to bankrupt them, to sink them economically and I think if we keep this kind of pressure on we will succeed in doing that. The only reason they're continuing is I think out of sheer stubbornness."