SYDNEY, July 14, 2011 (AFP) - Australian Prime Minister Julia Gillard said Thursday she was "shocked and disgusted" by the News Corporation phone hacking scandal and warned of a possible inquiry into media regulation and ownership.
Australia's Greens party has called for a parliamentary review of the nation's media, in which News Corporation's boss Rupert Murdoch is a dominant player, adding to the pressure on his embattled global empire.
News Limited, Murdoch's Australian operations, said it would "co-operate with any inquiry into media in Australia," but said the scope of any probe would need to be clearly defined.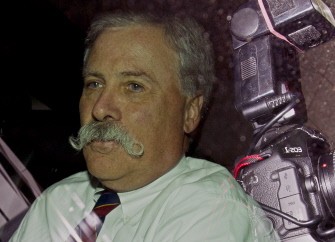 Chase Carey, President, Deputy Chairman and Chief Operating Officer of News Corporation, is pictured through a car window as he leaves News International headquarters in east London, on July 13, 2011.
Gillard said she anticipated a discussion among lawmakers about how to proceed.
"I'm not surprised to see that in parliament or amongst parliamentarians a conversation is starting about the need for a review, and I will be happy to sit down with parliamentarians and discuss that review," she said.
The PM she had been "shocked and disgusted" at the extent to which Murdoch interests in Britain had intruded on the privacy of grieving families.
"I've truly been disgusted to see it (and) I'm not surprised that that's causing in our national conversation consideration about the role of the media in our democracy and the media's role generally," she said.
Greens leader Bob Brown has called for a full inquiry into media practices and ownership as the scandal over telephone hacking and payments to police officers by News Corp's British newspapers reached fever pitch.
"There are calls for a review in the United States; there's been across-the-board support now for a review, and Prime Minister Cameron is now leading that, in the United Kingdom," Brown said.
"I think it's prudent, wise and proper that we look to have such a review here in Australia."
The inquiry would examine media ownership and character tests like those being mooted in the UK, regulation of the print media and privacy issues.
Brown said Australia had the largest concentration of press ownership in the democratic western world, with two-thirds of the nation's major city newspapers owned by Murdoch.
"This is a reasonable look, given the current global furore over what happened with News of the World, to safeguard the rights of ordinary Australians," he said of his proposed review.
The call came as Murdoch dramatically dropped his bid for control of British pay-TV giant BSkyB after the phone-hacking firestorm ratcheted up the pressure against his empire from British and US lawmakers.
It also came a day after John Hartigan, head of Murdoch's Australian arm News Limited, announced a review of the company's expenses payments over the past three years to confirm they were legitimate.
"I have absolutely no reason to suspect any wrongdoing at News Limited," he said, but added that the review would help affirm public trust in the company's practices.
In an apparent swipe at earlier comments by Brown, he also slammed as "offensive and wrong" attempts by some media commentators and politicians to "connect the behaviour in the UK with News Limited's conduct in Australia".
News Limited, the birthplace of Murdoch's global empire, in 2006 controlled 68 percent of the Australian metropolitan and regional newspaper market, according to the Press Council.
As well as owning eight of Australia's 12 metropolitan daily newspapers, Murdoch has extensive Internet assets, a stake in broadcasters Sky News and Fox Sports, and is angling to run the international Australia Network TV channel.
News Corp shares in Australia lifted 3.12 percent Thursday to Aus$15.20, after days of heavy losses as the phone hacking scandal intensified.
-- Dow Jones Newswires contributed to this report --