Australia's conservative leader Tony Abbott picked up a key seat Tuesday as the nail-biting race to form a new government went down to the wire, two weeks after inconclusive elections.
Maverick rural MP Bob Katter gave his support to Abbott's opposition, putting him dead level on 74 seats with Prime Minister Julia Gillard. The last two independents were to reveal their decision shortly.
"This morning I said that's my decision, fellas. I'm really sorry, I'm locked in," said Katter, known for his outsized cowboy-style hats, of his meeting with the other "kingmakers".
Fellow independents Tony Windsor and Rob Oakeshott were to make a statement at about 3:00 pm (0500 GMT), and were expected to hand either Gillard or Abbott power with a tiny one-seat majority in the 150-member parliament.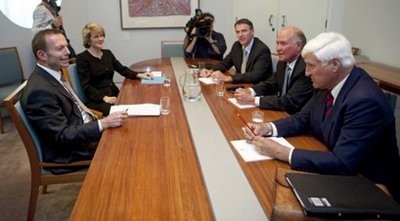 Australia's independent members of parliament Rob Oakeshott (3rd right), Tony Windsor (2nd right) and Bob Katter (right) are seen here with opposition leader Tony Abbott (left) and Deputy Opposition leader Julie Bishop at the parliament in Canberra, on August 25
The dramatic final day caps more than two weeks of furious horse-trading after August 21 elections produced the first hung parliament in 70 years, extending a period of unusual political upheaval.
The two remaining kingmakers have given few signals of which way they will fall, leaving Australia's political and media establishment on tenterhooks.
Frantic negotiations moved up a gear in the past 24 hours with Oakeshott meeting Abbott six times on Monday and receiving a package from one of the leaders early on Tuesday -- while he was in the toilet.
"Quite frankly I was in the toilet when the other one dropped into my office and dropped some paperwork off," Oakeshott said.
Gillard staged a shock party revolt against elected prime minister Kevin Rudd in June and announced polls just three weeks later, hoping for a bounce in public opinion.
But her anticipated honeymoon period failed to materialise as many voters rejected both main parties and turned to the environment-focused Greens, which enjoyed a record ballot share.
The knife-edge campaign, election and its aftermath has kept Australia's government in limbo for nearly two months, in the worst political crisis since the queen's representative sacked an elected prime minister in 1975.
The obscure independents, suddenly handed a starring role in the political drama, on Monday announced parliamentary reforms agreed by both sides including having an independent speaker, rather than a member of the ruling party.
Gillard is seeking to extend a reign of just 10 weeks as Australia's first woman prime minister, while Abbott is hoping to seal a spectacular political victory after taking charge of a riven opposition last December.