An Australian lawyer tore pages from the Koran and the Bible and smoked them on YouTube, days after a US pastor's threat to burn Islam's holy book triggered deadly protests and global condemnation.
In a 12-minute clip entitled "Bible or Koran -- which burns best?" Alex Stewart, who belongs to an atheist group, holds up the Christian and Muslim holy books before tearing out pages and smoking them.
At one point he lights what looks like a joint rolled from a page from the Bible, leans back after inhaling heavily and says "Holy".
The video, which has been deleted, was posted on YouTube over the weekend, coinciding with the ninth anniversary of the September 11 attacks and coming after American pastor Terry Jones threatened to torch 200 copies of the Koran.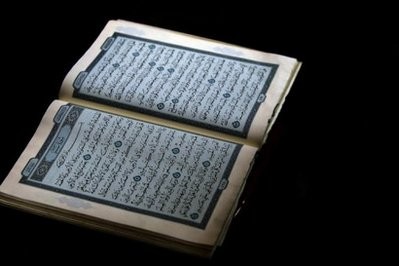 The pages of a Koran are seen on display at the al-Mansouri mosque in the ancient coastal city of Tripoli, in Lebanon
Stewart's employer, the Queensland University of Technology, said the research lawyer is on leave following a meeting on Monday.
"The university is obviously extremely, extremely unhappy and disappointed that this sort of incident should occur," vice-chancellor Peter Coaldrake told reporters.
Stewart's video, in which he describes the Bible and Koran as "just books", is deeply hurtful to Muslims, said Sheik Muhammad Wahid, president of the Islamic Association of Australia.
"There is no need for this kind of thing, just to create disunity and disharmony among people living in Australia," Wahid told Australian news agency AAP.
Stewart, an assistant organiser with a group called Brisbane Atheists, refers to the proposed burnings of the Koran in the United States in his video.
Florida firebrand Jones cancelled the event -- a protest against plans to build a mosque near New York's Ground Zero site -- but the furore led to two deaths in Afghan protests and strong worldwide condemnation.
"With respect to books like the Bible and the Koran, whatever, just get over it," Stewart says in the video which has since been deleted from YouTube.
In comments to Brisbane's Courier Mail, Stewart defended his right to freedom of speech.
"The video was a joke video, of course," he told the paper, adding that he was smoking grass clippings rather than marijuana.
"People do this stuff all the time and if people get really upset about this then they're taking it far too seriously."