Australian Foreign Minister Julie Bishop has confirmed Australia is considering joint patrols with Indonesia in the East Sea, source from VNA in Sidney.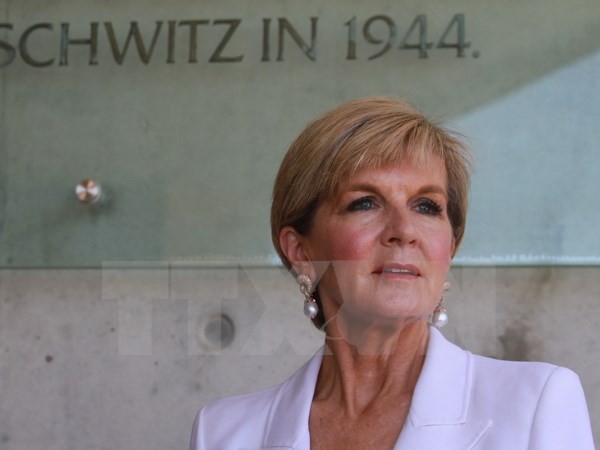 Australian Foreign Minister Julie Bishop (Source: AFP/TTXVN)
Any operation would be in accordance with international law and Australia's "support for peace, stability and security in the region", Bishop said on November 1.
She underlined her country's options to increase maritime cooperation, including coordination activities in the East Sea and the Sulu Sea, saying that this is totally consistent with Australia's policy of exercising its right of freedom of navigation.
The minister said there was a deeper level of maritime engagement with Indonesia than many realised activities such as training and personnel exchange.
The Australian Navy already conducted joint exercises in the East Sea with India and the US and notified other nations in the region, she said, adding that "this is a regular part of what our navy does and also part of our engagement in the region".
Indonesian Defence Minister Ryamizard Ryacudu raised the possibility of joint patrols during the Foreign and Defence Ministers meeting between the two nations in Bali, Indonesia last week.
The joint Australian-Indonesian patrols would help bring peace to the disputed waters, Ryacudu said.
The two nations consider joint patrols in the East Sea ahead the first visit of Indonesian President Joko Widodo to Australia early next week to boost bilateral cooperation.