SYDNEY (AFP) – Australia's major parties raced Sunday to woo independent lawmakers as the nation faced its first hung parliament in 70 years after voters punished Prime Minister Julia Gillard for ousting her predecessor.
The country's first woman prime minister and opposition leader Tony Abbott scrambled to broker deals to form a coalition government and break the limbo left when electors Saturday stripped Gillard of her right to rule alone.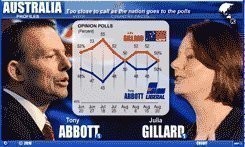 Interactive graphic on the general election in Australia with final opinion polls before Saturday's vote showing Labor Prime Minister Julia Gillard and her Liberal opponent Tony Abbott running neck-and-neck. AFP
Gillard, who toppled predecessor Kevin Rudd in a brutal party coup just two months ago, was lagging behind her challenger by 70 seats to 72, with 78 percent of the ballots counted, the ABC network said.
With 76 seats needed to form a government, Australia's balance of power now lies in the hands of five men -- four independent MPs and a newly elected Greens politician.
But the stunning fall from grace of the centre-left Labor Party government has left Abbott's conservative Liberal/National alliance poised on the brink of power, if he can cobble together a coalition government.
"The Labor Party has definitely lost its majority," Abbott told jubilant supporters late Saturday.
"What that means is that the government has lost its legitimacy. And I say that (it) will never be able to govern effectively in a minority," he told the cheering crowd in Sydney.
It is an extraordinary reverse for Labor, which swept to power in a 2007 landslide under Rudd but then enraged voters by dumping the then-prime minister in June, after his approval ratings slumped.
Gillard quickly called elections, hoping for a honeymoon with voters, but ran a chaotic, leak-plagued campaign which failed to capitalise on Labor's big achievement -- helping Australia avoid a recession during the financial crisis.
Former lawyer Gillard, 48, conceded her party would not be able to govern alone after a massive 5.5 percent swing against Labor, especially in Rudd's home state of Queensland and in New South Wales.
"The people have spoken, but it's going to take a little while to determine exactly what they have said," Gillard told supporters in Melbourne, warning of "anxious days ahead".
Labor was expected to take 72 seats in total against 73 for Abbott's alliance in the 150-seat parliament, leaving independents such as Tony Windsor in the unaccustomed role of kingmaker.
"I've had two very kind phone calls -- one from the prime minister early in the evening just to congratulate me, and then about 1:15 am the leader of the opposition rang to congratulate me as well," Windsor said.
Windsor and fellow independents Rob Oakshotte and Bob Katter were once members of the conservative National Party, which is teamed up with Abbott's Liberal Party.
Andrew Wilkie, a fourth independent who looked likely to win in Tasmania, and new Greens MP Adam Bandt from Melbourne are seen as leaning to Labor.
But it was unclear whose political career the five would ultimately salvage.
The suddenly popular independents were expected to talk later Sunday and said they would meet as early as Monday to decide their positions, but warned it would take some time to reach a decision.
"I want stable government and I want a parliament that can deliver outcomes," said Oakeshott. "I will look for the best outcome for my electorate and the best outcome for the country."
Analysts said the government could be deadlocked for up to two weeks as parties horse-trade for leadership of the lower house.
The electoral upset that robbed Labor of its majority was "a referendum on the political execution of a prime minister", Abbott said Saturday.
Voters were also incensed by Labor's decision to shelve an emissions trading scheme, the centrepiece of its drive against climate change, after failing to push it through parliament.
Gillard, who was born in Wales, had pledged better education and healthcare and played up Labor's handling of the economy during the crisis.
Abbott, a 52-year-old religious conservative who has doubts about mankind's role in climate change, targeted fears over illegal immigration and questioned Labor's spending record, as well as Gillard's knifing of Rudd.