Australia's government said on Monday it had ordered the expulsion of an Israeli diplomat over the use of fake passports in the assassination of a top Hamas militant in Dubai in January.
Foreign Minister Stephen Smith said a police investigation had left no doubt Israeli intelligence services had been behind the forgery of four Australian passports used by suspects in the killing of Mahmoud al-Mabhouh in a Dubai hotel room.
"These investigations and advice have left the government in no doubt that Israel was responsible for the abuse and counterfeiting of these passports," Smith told Australia's parliament. "These are not the actions of a friend."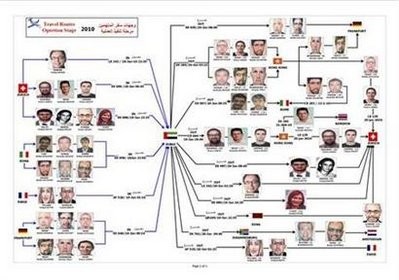 The travel ports of entry and exit of suspects is seen in this handout picture released by Dubai police February 24, 2010
The Australian government ordered an inquiry into the fake passports by police and intelligence services, who visited Israel and found the four citizens involved had been innocent of any involvement.
"No government can tolerate the abuse of its passports, especially by a foreign government," Smith said. "This is not what we expect from a nation with whom we have had such a close, friendly and supportive relationship."
The government, he said, had asked that a member of Israel's Australian embassy in Canberra be withdrawn within a week. Australia and Israel are traditionally close allies and Smith said he expected relations to cool somewhat.
Dubai authorities have given names of alleged members of the team that tracked and killed the Palestinian, and said they used fraudulent British, Irish, French, German and Australian passports to enter and leave Dubai.
Israeli Foreign Minister Avigdor Lieberman said in February there was no evidence to link his country to the killing, which also prompted Britain to expel an Israeli in March.
But Britain's then-government said an investigation by the country's Serious Organised Crime Agency had found 12 forged British passports were used in the hit, copied from genuine passports.
Four Australians -- Nicole McCabe, Joshua Bruce, Adam Korman and Joshua Krycer -- had their identities stolen and used in fake passports held by suspects believed to be involved in the assassination, Smith said.
Mabhouh, born in the Gaza Strip, had lived in Syria since 1989 and Israeli and Palestinian sources have said he played a key role in smuggling Iranian-funded arms to militants in Gaza.
Smith said the passport cloning operation used in his killing was of high quality and had obviously been state-backed.
"The decision was made much more in sorrow than in anger," he said. "The decision was made in our national security interests, made in support of the integrity of our passport system, made in efforts to protect Australians who travel overseas."
Authorities in Dubai had already been briefed on Australia's findings, he said, along with the other countries involved and close Australian and Israeli ally the United States.