Australia's economy surged 1.2 percent in the three months to June, the biggest jump in three years, official figures showed on Wednesday, sending share prices and the local dollar sharply higher.
Annual growth clocked 3.3 percent, the Australian Bureau of Statistics said, smashing analyst forecasts of a 2.8 percent rise over the year and 0.9 percent from the March quarter.
"Without a doubt, Australia currently has one of the strongest economies in the advanced world," Commonwealth Securities chief economist Craig James said.
The fastest increase since 2007 came mainly from construction and scientific and technical services, as well as mining, easing concerns over a "two-speed" economy where the roaring resources industry leaves other sectors behind.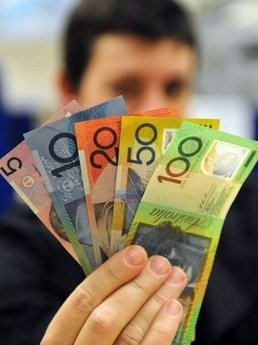 Australia's economy surged 1.2 percent in the June quarter and 3.3 percent over the year, smashing analyst forecasts, figures showed Wednesday, sending share prices and the local dollar higher
"This was a very strong figure in just about all aspects. This economy is looking less two-speedish by the day -- more one speed, and that speed is fast," said Stephen Roberts, chief economist at Nomura.
The benchmark S&P/ASX 200 rose 1.67 percent to 4,477.9 points on the news, after hitting a 10-day high of 4,479.9, while the Australian dollar was at 89.69 US cents, up three-quarters of a US cent.
Analysts said the figures also raised the prospect of renewed interest rate rises after the Reserve Bank put an aggressive series of hikes on hold in June, with the official cash rate at 4.50 percent.
"On the back of this GDP number, it certainly increases the likelihood" of a rise, said BNP economist Dominic Bryant, predicting an upward move by November.
Consumer spending rose 1.6 percent, surprising analysts who expected a smaller rise with households affected by the interest rate rises, while exports were 5.6 percent higher.
"These are an outstanding set of figures that all Australians can be proud of," said Treasurer Wayne Swan. "Prime ministers elsewhere would kill for a set of outcomes such as these," he added.
Australia's economy has been dubbed the "wonder from Down Under" after avoiding recession during the financial crisis and recovering strongly since, helped by booming resources exports to Asian countries such as China.
Unemployment sits at 5.3 percent, against 9.5 percent in the United States and 10 percent in Europe, while figures released this week showed the lowest current account deficit in eight years and a record jump in company profits.