TUXTLA GUTIERREZ, Mexico, Sept 29, 2010 (AFP) - Mudslides have killed at least 18 people and left 13 missing in southern Mexico, the latest misery in an unusually fierce rainy season, authorities said Wednesday.
A mudslide killed at least 16 people and left four missing in the village of Reforma in Mexico's southernmost Chiapas state, according to a state official.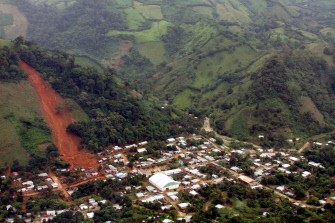 General view of the site of the landslide in Amatan town, Chiapas state on September 29, 2010. AFP
"Their bodies have been recovered. There are eight children and eight adults," state public works chief Guillermo Castellanos said.
Civil protection workers and state governor Juan Sabines were on scene as the search for the missing continued, Castellanos added.
A separate mudslide in Chiapas state was reported earlier in the village of Nueva Colombia. A woman and two children were missing there, officials said.
Chiapas, bordering Guatemala to the south, and Oaxaca to the west, is among Mexico's poorest states, and has been among the hardest hit by record rainfalls in recent months.
In the waterlogged Oaxaca mountain hamlet of Santa Maria Tlahuiltoltepec, a tiny town of 10,000, local health secretary Eduardo Hernandez was among the missing along with his family. Two bodies were recovered and nine people remained missing there, authorities said.
The latest deaths meant that since May, fierce weather-triggered events have killed at least 98 people. More than 810,000 have lost their homes, and the flooding and mudslides have done damage topping four billion dollars.
Initial reports said the Oaxaca landslide likely killed many more there, but officials later indicated that reports of confirmed deaths were premature, with four homes and an ambulance buried beneath the sliding earth.
Hernandez "was out warning people, and shouting out that there was imminent danger, and apparently when he went home to sleep, the tragedy hit him," said state emergency official Hernan Lagunas.
Shortly after the landslide, state governor Ulises Ruiz predicted there would be hundreds to 1,000 dead, sending a national response effort lurching into gear.
Ruiz said he did not regret sounding an alarm to help this town of indigenous Mixe people.
Military helicopters and hundreds of rescuers were sent in and neighboring countries readied to pitch in.
"At that time of day, with no electricity, and there were no communications, what we did was get the rescue apparatus moving," Ruiz told reporters about sounding the alert.
"Fortunately it (the death toll) was not what was said. But to do anything else at four in the morning, when you are trying to see what is true and what is not..."
At the scene of the landslide, about 100 ethnic Mixe people hunched down with rescue workers, hacking with pickaxes and a bulldozer trying to move tonnes of earth that swept over four homes.
The region has already been hit by deadly flooding in the wake of Tropical Storm Matthew, with weeks of rainstorms, which officials say are the heaviest on record, wreaking havoc in a wide area of southern Mexico.
They have flooded cities, towns and valleys, destroyed thousands of homes, damaged historic sites and inundated broad stretches of farmland.
The head of the National Water Council, Jose Luis Luege, blamed the mudslides on deforestation.