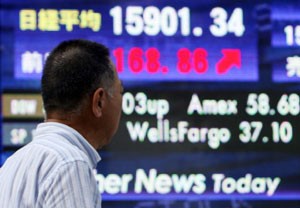 Pedestrian walks past an electronic stocks price board displayed at a window of a securities' company in Tokyo, August 21, 2007
Most Asian stock markets rallied for a second straight day Tuesday as fears of credit crisis jeopardising global economic growth continued to recede, dealers said.
But several bourses lost ground as investors remained on high alert for fresh signs of trouble in credit markets due to problems in US subprime mortgages to high-risk borrowers.
European stock markets meanwhile struggled to maintain their recovery in early trade despite declining fears of a full-blown credit crunch after the Federal Reserve slashed the lending rate it charges commercial banks on Friday.
In Asia many markets clawed back more of their hefty recent losses, with the region's largest market in Tokyo closing up 1.07 percent.
Japanese Finance Minister Koji Omi said there were signs that financial market conditions were improving.
Chinese share prices rose 1.03 percent to close at another record high on Tuesday as the market continued to focus on strong corporate earnings following a huge rise the previous day, dealers said.
Hong Kong ended up 0.6 percent but off its earlier highs following Monday's announcement that mainland Chinese will soon be able to invest directly in the bourse as the economic powerhouse further integrates into the global economy.
Analysts said it was too soon to say markets are out of the woods.
"Although fears about the health of the US financial system receded somewhat in the wake of the Fed's monetary action, worries about subprime mortgage problems will persist, making the US stock market volatile too," said Shinko Securities strategist Tsuyoshi Segawa.
"But once the volatility eases, the market may start focusing on economic fundamentals," he said.
Elsewhere in the region Philippine share prices rocketed 9.8 percent higher in the biggest single-day gain in seven years as investors jumped back into the market after Monday's holiday, anxious not to miss a recovery.
Seoul added 0.3 percent, "suggesting that the panic seen last week was ebbing," Samsung Investment Management fund manager Suh Duck-Shik said.
But trading remained volatile because investors were cautious for fear of more bad news from credit markets, he said, adding, "Foreign investors keep on selling, which worries me."
Sydney closed up 1.0 percent and Wellington rose 1.14 percent.
But some markets missed the party. In late trade Singapore was down 2.2 percent, Kuala Lumpur fell 0.8 percent and Jakarta shed 1.8 percent, while Taipei fell 0.43 percent.