Asian stocks followed global markets downwards on Tuesday as the eurozone debt crisis rumbled on while lawmakers in Washington remained deadlocked on an agreement to avoid a US default.
As equities tumbled dealers moved into safer investments, with gold sitting at record highs.
Hong Kong fell 0.37 percent, Tokyo dropped 0.71 percent by the break, Shanghai lost 0.87 percent, Seoul dipped 0.11 percent and Taipei lost 0.21 percent. Sydney was flat.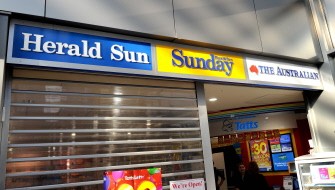 The mastheads of News Corp owned newspapers are displayed above a news agents in Melbourne on July 15, 2011.
The losses follow sell-offs in London's FTSE 100, which lost 1.55 percent, while Frankfurt's DAX also fell 1.55 percent and the Paris CAC 40 shed 2.04 percent to its lowest point of the year.
On Wall Street the Dow gave up 0.76 percent, the S&P 500 dropped 0.81 percent and the Nasdaq slid 0.89 percent.
European debt woes showed no sign of easing ahead of an emergency summit on Thursday aimed at thrashing out a second bailout for Greece that would help it avoid a default and prevent debt problems from spreading to other economies such as Italy and Spain.
Bond markets in peripheral European nations also tumbled.
The yield on Italian and Spanish bonds hit euro-era records, reflecting widespread concern that both countries were now at higher risk.
Italy's 10-year bond yields rose to above 6.0 percent Monday, compared with 5.75 percent on Friday, while Spain's rose from 6.05 percent to 6.30 percent.
In Italy -- seen with Spain as the next most at risk after Greece, Ireland and Portugal were bailed out -- the stock market slumped more than three percent, while Madrid was down 1.44 percent.
Investors are concerned about a possible financial crisis despite European Banking Authority stress tests Friday showing only eight out of 91 lenders failed.
Critics said the results did little to reassure since the reviews did not include a possible sovereign debt default -- the most crucial issue.
Adding to market pressure is the impasse in the United States where the White House and Republicans are running out of time to strike a deficit-cutting deal that will allow the debt ceiling to be raised and avoid default.
Treasury Secretary Tim Geithner said progress was being made but warned of the devastating consequences of failure.
A US debt default "would bring the world economy... because of the critical role we play in the global economy, to the edge of recession again. And again, it's not an option we can consider," he said.
Republicans, whose votes President Barack Obama needs to raise the limit, have demanded sweeping spending cuts in return while rejecting calls from the White House and Democrats to tie them to tax hikes on the rich and corporations.
The euro inched up to $1.4125 in Tokyo morning trading from $1.4117 in New York late Monday. The European single unit firmed to 111.68 yen from 111.50 yen. The dollar fetched 79.05 yen, little changed from 79.02 yen.
Gold opened at $1,602.00-$1,603.00 an ounce in Hong Kong, up from Monday's close of $1,598.00-$1,599.00.
The precious metal passed the $1,600 barrier in London on Monday as dealers bought it for its safe-haven status amid the uncertain global economic outlook.
In Sydney, Rupert Murdoch's News Corporation gained more than three percent despite a warning by Standard & Poor's that the company's credit rating could be cut.
The rise follow a more than four percent sell-off on Monday, a slump matched on US markets and heavy selling last week.
The media giant has been battered by the phone-hacking scandal surrounding Britain's now-defunct News of the World, which has seen the resignation of key Murdoch associates as well as the head of London's police commissioner.
New York's main contract, West Texas Intermediate for delivery in August, gained 38 cents to $96.31 per barrel.
Brent North Sea crude for September added 41 cents to $116.46.