Shares in Asia sank Tuesday as fears that Europe's debt crisis could infect Italy and Spain added to recent pessimism about the global economic recovery.
Hong Kong's Hang Seng slid 2.2 percent to 21,854.91, South Korea's Kospi retreated 2.1 percent to 2,111.05 and the Shanghai Composite Index lost 1.2 percent to 2,768.28.
Japan's Nikkei 225 stock average shed 1.5 percent to 9,915.00. Expectations that Japan's central bank may end a two-day policy meeting with a downgrade of its growth estimate for fiscal 2011 following the March earthquake and tsunami disasters deepened the gloom.
In Australia, the European debt worries overshadowed dissatisfaction with the government's new carbon tax proposal. The S&P/ASX 200 dropped 1.9 percent to 4,495.40.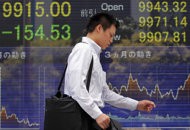 A man walks in front of the electronic stock board of a securities firm in Tokyo, …
"What I think is really upsetting people is what's happening in America and Europe," said RBS Morgans private client adviser Bill Bishop. "The European credit situation has got worse and the European and US banks took a big shellacking in the stock market," he said.
One bright spot was Macarthur Coal shares, which surged 37 percent in Sydney after U.S. mining giant Peabody Energy made a takeover bid for the Queensland company in tandem with the world's largest steel maker, ArcelorMittal.
News Corporation's main stock continued its downward spiral, shedding 4.1 per cent in reaction to the News of the World phone hacking scandal.
Shares in Europe and the U.S. extended losses Monday amid signs that Europe's debt crisis might be spreading beyond the three countries that already have gotten rescue packages. Concerns are growing that Spain and Italy might also need bailouts to manage their tremendous debt loads.
On Monday, the Milan Stock Exchange plunged nearly 4 percent — the second big drop in a row — and the spread between the country's 10-year bond yield and the German benchmark hit a record high. Spain's IBEX 35 index tumbled 2.7 percent.
That led to a dismal start to the week on Wall Street, where the Dow Jones industrial average had its biggest percentage drop in nearly a month. It fell 151.44 points, or 1.2 percent, to 12,505.76. And after closing one point off its 2011 high late last week, the Nasdaq composite fell 57.19, or 2 percent to 2,802.62.
Overnight, Europe's malaise weighed on the euro, which fell more than 1 percent to $1.4048. Some have said Europe's debt crisis calls into question the future of the common currency, but the slide also reflects investors' preference to park their money in the dollar, which is considered relatively safe in times of uncertainty.
"The euro is likely to remain under downward pressure in the European trading session as the ongoing eurozone debt crisis continues to intensify," said Lee Hardman, a currency economist for Bank of Tokyo-Mitsubishi UFJ.
In Asia, the euro fell further, to $1.3967. The dollar fell to 80.12 yen from 80.30 yen.
News that the global economy is still struggling dragged. oil prices lower.
Benchmark oil for August delivery was down 60 cents to $94.55 a barrel in electronic trading on the New York Mercantile Exchange