Asian stock markets were mostly higher Friday amid a 2 percent jump in Japan as economic indicators suggested the global slowdown isn't as severe as feared.
New figures showed Japan's economy had a stronger pulse in the second quarter than first thought. It expanded 0.4 percent from the previous quarter compared with the initial estimate of 0.1 percent growth.
Also positive for markets was news that first-time claims for U.S. unemployment benefits fell last week to the lowest level in two months.
A slowdown in China's export growth for August reflected unexpectedly weak orders by foreign retailers for the peak Christmas selling season, some analysts said, sending Chinese and Hong Kong stocks lower. But China's imports — an important contributor to growth in Asia — rebounded.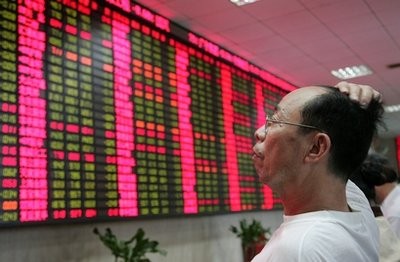 An investor looks at the stock price monitor at a private securities company Thursday, Sept. 9, 2010 in Shanghai, China.
Japan's Nikkei 225 stock average climbed 2 percent to end morning trade at 9,279.81 amid the growth news and the dollar clawing back some of its recent losses to rise above 84 yen. A strong yen erodes the overseas earnings of vital exporters like Toyota Motor Corp. and Sony Corp.
Tokyo also announced a well-telegraphed $11 billion stimulus spending plan.
South Korea's Kospi rose 1 percent to 1,802.40 and Taiwan's benchmark gained 0.5 percent to 7,874.90.
Markets in New Zealand, Thailand and Vietnam also gained while Malaysia, India, Singapore and India are closed Friday for holidays.
China's Shanghai Composite Index was down 0.6 percent at 2,639.53 and Hong Kong's Hang Seng slipped 0.2 percent to 21,130.87.
Exporters led gains in Tokyo. Canon rose nearly 6 percent while Sony Corp. gained 1.7 percent to 2,523. Toyota Motor Corp. added 1.7 percent.
The Dow Jones industrial average rose 28.23, or 0.3 percent, to close at 10,415.24 on Thursday. The Standard & Poor's 500 index rose 5.31, or 0.5 percent, to 1,104.18 while the Nasdaq composite index rose 7.33, or 0.3 percent, to 2,236.20.
U.S. unemployment claims have still not fallen enough to suggest that widespread hiring is around the corner, but investors have taken solace in recent employment news that suggest the economy will continue to grow slowly during the rest of the year. Traders concerned about the potential for the economy to slide back into recession drove stocks lower through most of August.
In currencies, the dollar rose to 84.08 yen from 83.95 yen in New York late Thursday. The euro fell to $1.2665 from $1.2686.
Benchmark crude for October delivery was up 50 cents at $74.75 a barrel in electronic trading on the New York Mercantile Exchange. The contract lost 42 cents to settle at $74.25 a barrel on Thursday.