Asian stock markets rose Friday, spurred by another batch of optimistic quarterly reports from major companies in the U.S. and Asia even as worries remained that this year's rally has overshot reality.
The region's broad advance followed an overnight rise on Wall Street, where investors were heartened by stronger profits and upbeat outlooks from companies seen as bellwethers of consumer demand in an economy emerging from recession.
The string of encouraging quarterly results continued in Asia, with South Korean auto maker Kia Motors Corp. and chip maker Hynix Semiconductor Inc. reporting higher profits that suggested global demand was turning for the better.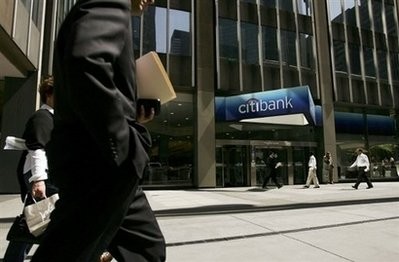 People walk past the Citibank building in New York City
Oil prices
, meanwhile, rose to near $82 on hopes the global economic recovery is gathering pace. The dollar rose modestly against the yen and fell slightly versus the euro in the aftermath of a weekslong drop.
Japan's Nikkei 225 stock average was up 48.69, or 0.5 percent, at 10,315.86 and Hong Kong's Hang Seng jumped 327.42, or 1.5 percent, to 22,537.94. South Korea's Kospi advanced 0.7 percent to 1,641.03, while China's Shanghai index climbed 2.3 percent.
Global stock markets have rocketed higher since March, lifting benchmarks in the U.S. and Asia to new yearly highs in recent weeks, amid a weakening dollar and massive liquidity.
But there are fears markets may have overestimated the strength of recovery. The possibility governments will start withdrawing lavish monetary and fiscal stimulus could also lead investors to rethink the strength of the rally.
"People are still somewhat jittery," said Song Seng Wun, an economist at CIMB-GK research in Singapore. "The market has done relatively well. The question is how much has been priced in."
"There's still concern about the potential drag of the U.S., inflation and the weaker dollar ... And there are signs governments may pull some of the liquidity. And that won't be so great news for equities," Song said.
Elsewhere in Asia, Australia's index gained 1 percent, Singapore's market was up 1.3 percent and India's Sensex climbed 0.9 percent.
On Wall Street, the Dow rose 131.95, or 1.3 percent, to 10,081.31. The index is 11 points below its highest close of the year, which it reached on Monday.
The broader Standard & Poor's 500 index rose 11.51, or 1.1 percent, to 1,092.91. The Nasdaq rose 14.56, or 0.7 percent, to 2,165.29.
In oil, benchmark crude for December delivery rose 35 cents to $81.54 a barrel. The contract rose 18 cents to settle at $81.19 on Thursday.
Among currencies, the dollar rose to 91.62 yen from 91.31 yen. The euro gained to $1.5024 from $1.5020.