Southeast Asia and China on Wednesday hailed "significant" progress toward resolving disputes in the South China Sea, a strategic waterway believed to contain vast energy reserves.
After nearly 10 years of negotiations, both sides announced an agreement on non-binding guidelines for the eventual implementation of a binding code of conduct governing activities in disputed waters and islands.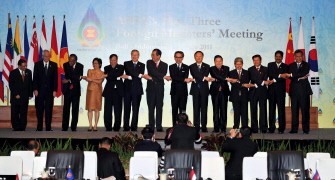 L-R: ASEAN foreign ministers and representatives U Wunna Maung Lwin of Myanmar, Albert Del Rosario of the Philippines, Shanmugan of Singapore, Chitriya Pinthong representative of Thailand, Pham Gia Khiem of Vietnam, Kim Sung-Hwan of Republic of Korea, Takeaki Matsumoto of Japan, Marty Natalegawa of Indonesia, Yang Jiechi of China, Kao Kim Hourn of Cambodia, Mohamed Bolkian of Brunei, Thongloun Sisoulith of Laos, Kohilan Pillay of Malaysia, Secretary General Surin Pitsuwan, pose for a group photo in Nusa Dua on the island of Bali on July 21, 2011
The guidelines were announced at a meeting of the Association of Southeast Asian Nations (ASEAN) in Bali, Indonesia, ahead of the region's biggest security forum involving the United States on Saturday.
ASEAN Secretary-General Surin Pitsuwan called the guidelines a "breakthrough" but Philippine Foreign Secretary Albert del Rosario said they lacked teeth and substance.
One of four ASEAN states with territorial claims in the sea, the Philippines, said this week it would seek UN arbitration to define the areas under contention after China rejected other appeals for independent mediation.
But Vietnam, another ASEAN claimant which has accused China of taking an increasingly aggressive posture, said the agreement was a positive development.
"This is a significant and good start for us to work together to continue dialogue and cooperation," Vietnamese official Pham Quang Vinh said.
Tensions have risen markedly in recent weeks, with several incidents involving claims and counter-claims of aggression on the high seas and provocative movements of military forces.
China's Assistant Minister of Foreign Affairs Liu Zhenmin said the officials would submit the draft guidelines to their ministers Thursday for final endorsement, as he tried to play down any rifts.
"This is an important milestone document on the cooperation among China and ASEAN countries," Liu told reporters.
The draft guidelines talk of "possible joint cooperative activities, measures and projects" and and other confidence-building measures, but make no mention of when a binding code would be in place.
A diplomatic source, who asked not to be named, said the list of approved projects had been whittled down to include such "harmless" activities as joint rescue operations and marine studies.
Surin said a final settlement of the disputes was vital to regional stability and prosperity, but he could not say when a fully fledged code of conduct would be finalised.
"All of us are aware that we have become critical to the global community economically," he told AFP.
"Any situation that will impair the confidence in the region will certainly impact on our role and our potential."
In the latest incident to spark concern, five Filipino lawmakers flew to an island in the disputed Spratly chain to plant a Philippine flag on a government building in disregard of warnings from Beijing.
Meanwhile, China's People's Daily, a Communist Party mouthpiece, warned the United States against interfering on behalf of its ASEAN allies such as the Philippines.
"We do not support raising bilateral disputes in multilateral settings and oppose the interference of external powers in this issue," it said.
The United States has risen to the defence of its ally the Philippines, pledging help to modernise its navy and calling on China to lower the temperature in the region.
It also claims a "national interest" in keeping the sea's shipping lanes open for business.
Taiwan, China and ASEAN members Philippines, Vietnam, Brunei and Malaysia have overlapping claims to parts of the region.
ASEAN's other members are Cambodia, Indonesia, Laos, Myanmar, Singapore and Thailand.
On Saturday, the ASEAN foreign ministers will be joined by US Secretary of State State Hillary Clinton and Chinese Foreign Minister Yang Jiechi at the bigger ASEAN Regional Forum focused on security issues.
aa-mba/smc/pst