BERLIN, May 30, 2010 (AFP) - German Chancellor Angela Merkel, according to Forbes magazine, is the most powerful female on the planet. But lately, she has also looked one of its loneliest.
Barely half a year into her second term at the head of Europe's biggest economy, the 55-year-old has found herself under fire at home and abroad over a whole range of issues, with the Greek debt crisis top of the list.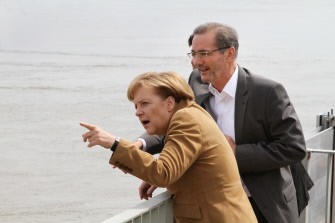 German Chancellor Angela Merkel and Brandenburg's State Premier Matthias Platzeck inspect the flood water from the banks of the River Oder on the Polish border on May 29, 2010. AFP photo
But her actions are largely explained by severe political pressure at home, commentators say.
With Greece teetering on the edge of financial meltdown a few weeks ago, Merkel was accused of foot-dragging over riding to the rescue together with Germany's European Union partners and the International Monetary Fund.
Similar charges were levelled when it came to arming Europe with a trillion-dollar fire extinguisher to stop the flames spreading to other debt-ridden eurozone members such as Portugal and Spain.
"When Germany finally agreed to contribute to a bailout fund -- under threat of a Continentwide crash -- Europe's economic problems were far worse, and Germany and others had to ante up a lot more cash," a New York Times editorial said.
Then came Germany's surprise ban on naked short selling -- risky investment bets -- that together with an alarmist warning about the euro's future from Merkel wiped billions off stock markets and sent the single currency tumbling.
Like so much of Merkel's recent behaviour, this short-selling ban, and plans to widen it by law, have "a domestic political background," said Ralf Jaksch from the Centre for European Politics (CEP).
"A majority of lawmakers in the government coalition only voted in favour (of the eurozone bailout) with great pains and were far from convinced it was the right thing to do," he said.
Germany's response to the eurozone crisis, pressing for tighter EU budget rules, has hit choppy waters too, with the president of the European Commission, Jose Manuel Barroso, slamming Germany as "naive."
Much to Merkel's annoyance, others have also lashed out at Germany's export prowess, the fruit in part of government efforts not mirrored elsewhere in Europe to keep wages down, calling on her to boost consumer spending instead.
US Treasury Secretary Timothy Geithner made a pointed comparison with China in Berlin last week, saying Beijing was "recognising that imperative" to boost domestic demand. He did not repeat the compliment for Germany.
Bild, the mass-circulation daily, has treated Merkel to a roasting over Greece, screaming in mid-May: "Yet again, we are the mugs of Europe."
Broadsheets have scarcely been kinder, and the German public is even showing growing signs of falling out of love with the European project because of the recent turmoil.
A disastrous election result on May 9 in North Rhine-Westphalia robbed Merkel's governing coalition of its majority in the upper house, constricting her ability to pass legislation in the future.
The parlous state of Germany's public finances have forced Merkel to rule out delivering on her re-election promises to slash taxes, and there is speculation now that taxes might even rise.
And with 2011 "super election year," with six of Germany's 16 states going to the polls, domestic considerations are set to continue to dictate Merkel's behaviour for the foreseeable future.
"If all these elections go the same way as North Rhine-Westphalia ... then Merkel is going to find things even tougher," Gerd Langguth, political science professor at Bonn University, told AFP.