Arab nations are to meet in Morocco Wednesday to tighten the noose around increasingly isolated Syria after Turkey warned its onetime ally against feeding "on the blood of the innocent".
Since the Arab League decided on Saturday to suspend Syria over its crackdown on protests -- only the third suspension of a member in the pan-Arab body's history -- the pressure on President Bashar al-Assad has mounted.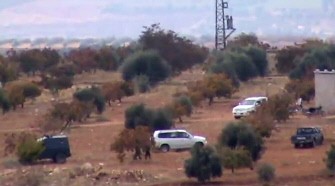 An image grab taken from a video uploaded on YouTube on November 15, 2011 shows the Syrian army raiding farms surrounding the town of Taibet al-Imam, north of Hama
On Monday, Jordan's King Abdullah II urged Assad to step down over the repression -- which the UN says has killed 3,500 since March -- becoming the first Arab head of state to call for the Syrian president's resignation.
His call coincided with one of the bloodiest days since the start of the uprising, with more than 70 people killed, including several suspected army deserters.
As the crackdown continued on Tuesday, Turkish Prime Minister Recep Tayyip Erdogan said Ankara had abandoned hope that Assad, once a close ally, would respond to international demands to halt violence and initiate democratic reforms.
"A future cannot be built on the blood of the innocent, otherwise history will remember those leaders as the ones who feed on blood. And you Assad, you are now coming closer to opening that page of history," Erdogan said.
Turkey said it was halting joint oil exploration with Syria.
UN leader Ban Ki-moon said it was "crucially important now that President Assad immediately stop killing his own people," and urged Arab states to exercise "leadership" in resolving the crisis quickly.
Foreign ministers of the 22-member bloc were due to meet in the Moroccan capital Wednesday to further discuss measures they announced at last week's Cairo meeting, including sanctions and withdrawing ambassadors.
Syria said it will not attend.
The United States urged Arab leaders to step up pressure on Damascus and send Assad a message Wednesday "that he needs to allow for a democratic transition to take place and to end the violence against his own people," said State Department spokesman Mark Toner.
Preliminary talks were held in Rabat Tuesday between Moroccan Foreign Affairs Minister Taieb Fassi Fihri and his Egyptian counterpart Mohammed Kamel Amr.
Wednesday's meeting will take place on the sidelines of an Arab-Turkish cooperation forum attended by Turkish Foreign Minister Ahmet Davutoglu.
Turkey, a former Damascus ally that has been one of the most outspoken champions of reform, has threatened to cut power exports to Syria.
"We are currently exporting electricity (to Syria). If the situation continues like this, we may be in a position to revise all these decisions," Turkish Energy Minister Taner Yildiz said.
Ankara has been gradually distancing itself from its neighbour, stopping just short of recognising the Syrian National Council, an exiled opposition umbrella group founded in Turkey, as the nation's legitimate authority.
"When the Arab Spring started, we hoped that the Syrian regime would meet the aspirations of its people. Unfortunately, we have observed that it refuses to listen and persists in a strategy of repression," Davutoglu said Tuesday.
Assad has few friends left in the Arab world -- only Syria, Lebanon and Yemen did not support its suspension from the league. Its main allies internationally are China, Russia and Iran.
The six oil-rich Gulf Arab states said Wednesday's planned meeting in Rabat meant there was no reason to agree to Syria's request for an emergency Arab summit to review the suspension.
Some observers argue that Assad's regime is on its last legs and its call for a summit was nothing but a stalling tactic.
The Arab League said Monday it planned to send 500 observers to Syria but the organisation's chief Nabil al-Arabi said it needed guarantees from Damascus.
Apart from releasing 1,180 prisoners Tuesday it said were "implicated" in the violent uprisings, Syria has failed to implement an Arab roadmap agreed on November 2.
The plan called for the release of detainees, the withdrawal of the army from urban areas, free movement for observers and media, and negotiations with the opposition.
Instead, human rights groups say, the regime has intensified its crackdown.