The public sees the Iraq war as a failure and thinks the U.S. troop buildup there has not worked, according to an Associated Press-Ipsos poll suggesting the tough sell President Bush faces in asking Congress and voters for more time.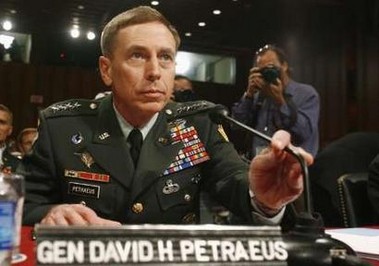 U.S. Army General David Petraeus, the top commander of U.S. forces in Iraq, testifies on the state of the war in Iraq to the U.S. Senate Foreign Relations Committee on Capitol Hill in Washington, September 11, 2007.
The pessimism expressed by most people — including significant minorities of Republicans — contrasted with the brighter picture offered by Gen. David Petraeus. The chief U.S. commander in Iraq is telling Congress this week that the added 30,000 troops have largely achieved their military goals and could probably leave by next summer, though he conceded there has been scant political progress.
By 59 percent to 34 percent, more people said they believe history will judge the Iraq war a complete or partial failure than a success. Those calling it a failure included eight in 10 Democrats, three in 10 Republicans and about six in 10 independents, the poll showed — ominous numbers for a president who hopes to use a nationally televised address later this week to keep GOP lawmakers from joining Democratic calls for a withdrawal.
"It's time to turn the corner in my view, gentlemen," Senate Foreign Relations Committee Chairman and presidential candidate Joseph Biden, D-Del., told Petraeus and Ryan Crocker, U.S. ambassador to Iraq, as they testified to his panel Tuesday. "We should stop the surge and start bringing our troops home."
Underscoring the public's negativity, four times as many predicted the war in Iraq would be judged as a complete U.S. failure as the number who see a complete success, 28 percent to 7 percent.
When the Gallup Poll asked the same question in September 2006, 52 percent said the war will be judged as a partial or complete failure, seven points fewer than the AP-Ipsos survey.
"The enemy was in Afghanistan, and I believe going into Iraq we took our eye off the ball," said Ann Bock, 66, a retired teacher and Democratic-leaning voter from Edmond, Okla., who participated in the survey.
In the poll — taken in the days just before Petraeus' long-awaited appearance — more people rated the troop increase a flop than a success by 58 percent to 36 percent, with three in 10 Republicans joining majorities of Democrats and independents in foreseeing failure.
Positive reviews of the troop increase were at about the same level as they were in mid-January, just after Bush announced the buildup.
In the new survey, people calling it a mistake to go to war in March 2003 outnumbered those calling it the right decision by 57 percent to 37 percent, numbers that have stayed about level for more than a year. About a quarter of Republicans, along with most Democrats and independents, labeled the war an error.
Slight majorities of conservatives saw success in Iraq, a troop increase that is working and a war that was the right choice, though a third or more answered each question negatively.
In another indication of how uncertainty over the conflict is felt even by its supporters, of those who said going to war was the right decision, fully one-fifth said it will be viewed as a failure and about a quarter said the troop increase has not worked.
The poll was conducted Sept. 6-9 and involved telephone interviews with 1,000 adults. It had a margin of sampling error of plus or minus 3 percentage points.