BANGKOK, March 19, 2010 (AFP) - Anti-government protesters on Friday rejected a conditional offer of talks by Thailand's premier, saying they would not give up their struggle until they had toppled his administration.
The "Red Shirts" rallied for a sixth day in support of deposed Prime Minister Thaksin Shinawatra with leaders of the dwindling Bangkok protest vowing there would be no negotiations until the dissolution of the lower house.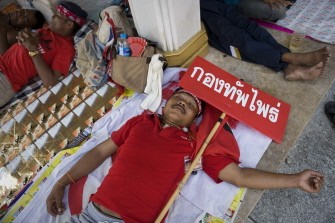 A red-shirted protestor rests in the early morning in Bangkok on March 19, 2010. AFP photo
"I am willing to talk but it should not be under this climate of intimidation," Prime Minister Abhisit Vejjajiva said in an interview on an army-run national television channel.
But leaders of the largely rural-based Red Shirts said they would hound Abhisit until he bows to their demands, beseeching supporters at the rally to remain and calling for a class war.
"The Red Shirts are not refusing to negotiate but the prime minister has to dissolve the house first and all parties have to sign a pact saying they will respect the result of elections so the country can move ahead," Red Shirt leader Jatuporn Prompan told the crowd.
Abhisit said he had not been able to return home to see his family since the rally began, as he and other members of his army-backed government have been holed up at a military barracks over security fears.
The protesters picketed the army base on Monday and on Wednesday they threw bags of their own blood at the walls of his family home after staging the same stunt at his office gates a day earlier.
Police said about 18,000 red-clad protesters remained on Thursday during the rally's evening peak, less than a fifth of the number who turned out nearly a week ago when the group swept into the capital to call for snap elections.
Bangkok and surrounding provinces remain under a strict security clampdown for the so-far peaceful rally, with a 50,000-strong force of soldiers and police on the streets.
Protest reinforcements are expected to travel into Bangkok on Saturday to join a convoy around the capital in a bid to garner more support from city residents and spread their anti-elitist message.
A military official said up to 30,000 more Red Shirts were expected to arrive and police have said they have prepared for the predicted traffic chaos.
The protesters, whose numbers reached more than 100,000 when the rally began on Sunday, say Abhisit's government is illegitimate because it came to power with army backing via a December 2008 parliamentary vote, after a controversial court ruling removed Thaksin's allies.
The next polls must be held by December 2011.
The Reds say they are fighting Thailand's privileged elites in bureaucratic, military and palace circles, whom they accuse of ousting elected governments.
Twice-elected Thaksin, who was deposed in a coup in 2006, has been egging on his supporters via videolink and online postings from exile, as he avoids a two-year jail term for corruption at home.
Amid rumours that he has been forced out of his main base in Dubai, Thaksin said on Friday on Twitter that he had returned there following a trip to the Balkan state of Montenegro, as he encouraged the Reds to press on.
Since Thaksin's ousting, Thailand has been rocked by protests of both his supporters and opponents that have sometimes turned violent.