An Indonesian woman has died of bird flu, bringing the country's death toll from the disease to 59, according to a hospital official.
The 37-year-old woman died Thursday evening, Muktar Iksan, a doctor at the Persahabatan hospital in Jakarta, told AFP.
She was the second victim in two days, after a 14-year-old boy died on Wednesday.
A government health official said the woman fell ill after cooking and eating a chicken she had bought live at a local market on December 30.
She sought treatment at various clinics but was only hospitalized on January 6 and moved to the Persahabatan hospital on January 8.
Indonesia has recorded 59 confirmed bird flu deaths, the highest in the world.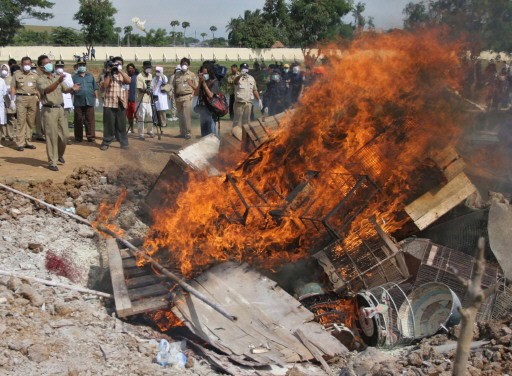 Officials from the Indonesian agriculture ministry burn off cages that contained poultry to prevent bird flu epidemic.
The vast majority of bird flu cases have occurred after contact with infected poultry.
The H5N1 strain of bird flu has killed more than 150 people worldwide since late 2003 and has triggered the slaughter of tens of millions of poultry.
There are also fears it could mutate into a form that could cause a human flu pandemic.
Efforts to curb the spread of the disease in Indonesia have been hampered by the reluctance of some poultry owners, especially backyard farmers, to hand over their sick or potentially infected birds for slaughter.
Indonesia last month announced a substantial increase in spending on prevention of bird flu and pandemic preparedness, with total international and domestic funding rising to 126.5 million dollars for 2007, up from 91 million last year.
Officials had said their strategy of vaccinating poultry and increasing public awareness appeared to be paying off and they were aiming at zero cases of human bird flu this year.
Indonesia is continuing its "Beat the bird flu" campaign to raise public awareness, and this year aims to restructure the poultry industry.