LONDON, Aug 14, 2011 (AFP) - Tottenham in north London is still smouldering with anger and frustration, one week on from the unprecedented wave of rioting, arson and looting that broke out here then swept across England.
Last Sunday residents of the multi-ethnic neighbourhood were assessing the scale of the damage after a night that saw running battles with riot police, homes and businesses reduced to cinders and stores smashed into.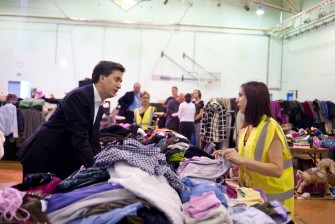 AFP - British Opposition Labour Party Leader Ed Miliband (L) talks with workers at the Tottenham Green Leisure centre in east London, on August 12, 2011, where donated items such as food and clothing have been collected for victims of the recent riots and looting.
But while the clean-up continues and businesses get back to normal one week on, the tension has not dissipated.
Tottenham High Road, the neighbourhood's main thoroughfare which was the scene of last Saturday's explosion of violence, remained a crime scene for a week, taped off by the police as they gathered evidence.
Saturday should have seen the area streaming with football supporters for Tottenham Hotspur's match against Everton as the English Premier League season kicked off, but the game was postponed for safety reasons.
"We're closed since last Saturday," a Turkish restaurant owner said as he finally reopened for business, a week on.
"People never demonstrate here to protest. Everybody's unhappy, frustrated. Economy, racism. And suddenly it all explodes," he said.
The trigger for last Saturday's riot, which then sparked a wave of arson, looting and disorder across London and then to cities beyond, was the death of Mark Duggan.
The 29-year-old was shot dead on Thursday, August 4 by armed police operating with officers from Trident, the unit of London's Metropolitan Police that deals specifically with gun-related murders in the black community.
He was stopped in a pre-planned attempted arrest.
A non-police issue handgun was recovered from the scene. The Independent Police Complaints Commission, which investigates all deaths involving officers, said there was no evidence of an exchange of shots.
Last Saturday's events began with a peaceful march to Tottenham police station on the High Road from Broadwater Farm, a 1960s public housing estate that is notorious across Britain for a deadly 1985 riot.
However, within hours, rioting broke out.
"The people wanted police to know that they're messing up," reckoned 14-year-old Dillz Shah.
His friend Jeffrey Freeman said: "The people wanted revenge for Duggan's killing.
James Cardelle added: "My dad thinks Duggan was a very good man, he knew him."
Duggan lived on Broadwater Farm, a collection of ugly-looking grey social housing blocks.
"He was a nice guy. So sad," said Mohammed Abrar, 22, from beneath a grey hood.
The October 6, 1985 Broadwater Farm riot followed riots a week before in Brixton, south London.
They were sparked by the stroke death of a black woman during a police search at her home on the Tottenham estate.
Youths rioted, attacking police with petrol bombs and bricks. Shots were fired at officers and a policeman was hacked to death by a mob in some of the worst urban rioting in Britain of the past 30 years.
Then, as now, fingers were pointed at police "lies", but also at "anger" provoked by governments past and present.
In a hairdressing salon opposite a burnt-out two-storey building, the black clientele lambast the authorities and the upper echelons of society.
"They abandon the population"; "the government has tripled the tuition fees"; "they cut the benefits"; "they evict people whose children were involved in the riots"; "these bankers have stolen our money", they say as they discuss the situation.
Perry Linton, a 50-something, is "frustrated" by a society in which "we worked hard, very hard, to get what? Things went worse".
Linton adds: "Racism is a big issue".
Christina Showunmi, a mother in her 40s, replies: "Racism? I don't want to think about it, otherwise it will affect my attitude towards other people. So I just block it out of my mind."
"True", other customers say. "We do the same".
Stella Saunders, 60, was having her nails painted blue.
"The youth are hanging around, have no jobs. If the factories were open, it would keep them busy. Everybody needs hope and an income," she said.
If not, despair is simply passed on from generation to generation.
"If you have no hope at 14, 15, how can you become a good parent?" she said.
Showunmi warned: "This will happen again and it will escalate. The government will make it happen again."